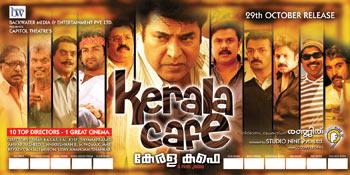 Ten top directors, one great movie, boasts the posters of Kerala Cafe. The film is conceived by Ranjith, a storyteller who has written, directed and produced some of the biggest hits in Malayalam cinema.
Ranjith has written the stories of Malayalam hits Devasuram, Aaram Thampuran and Narasimham and directed Ravanaprabhu, Nandanam, Chandrolsavam amongst others.
Kerala Cafe brings together celebrated directors and outstanding actors from the Malayalam movie industry.
The result is a unique feature film, where each of the directors have been able to stamp their individual styles into this one movie. 
The film hits theatres on October 29.