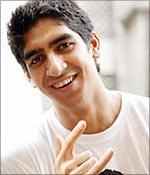 "Karan Johar had a vision for me long before I had one for myself," says Ayan Mukerji, who is making his debut as a director with a coming of age film Wake Up Sid.
Having assisted Johar on several films, Mukerji, 25, feels that his mentor is more than 'a truly talented human being.' Like Tarun Mansukhani who got his directorial break (Dostana) thanks to Johar, Mukherjee also says Johar has a uncommon gift for recognising the potential in his associates. 
"You learn the craft from him -- and you learn things about life from him," Mukerji says.
"He had told me several years ago that if I had a good script, he will produce the film," Ayan, son of actor Debu Mukherjee recently seen in the hit film Kaminey, says. "Karan Johar gave me confidence, and that is the biggest gift I could have received from anyone."
Wake Up Sid stars Ranbir Kapoor and Konkona Sen Sharma. He is 27; she is three years old, and is unglamorous compared to him in the film. He seems unfocussed; she as a writer has quite a bit of wisdom. Theirs is an unusual relationship and romance. The audiences will be able to identity themselves with these characters, Mukerji feels.
"When I set out to write the script, I had no great concept or a story full of dramatic happenings," Mukerji says. "I wrote it for myself, and never did I think while writing it that I wanted Karan Johar or anyone else to produce it. There was no real planning till Karan made up his mind and insisted that I direct the film."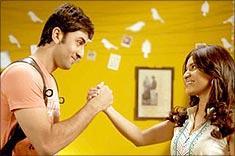 The film has 'a simple story.' "In fact, I can even say it has no story in the traditional sense," the young director continues. "There is more of a feeling than a story in my film " It is, in a way, a light-hearted look at the pains and pleasures of young adulthood, he adds.
He was 24 when he thought of the story. "I thought of the time when I was 18. I missed those times. I wondered how easy it was to be happy when you are younger. So in a way, this film is about being young and lost," he says with a chuckle.
"I don't think I could have made this film when I am 30," he adds. The movie could have been made only when the memories of one's onsetting adulthood are not too distant.
"I did not try to follow any cinematic norm," he confesses. "I just wanted to tell an urban story."
Cinema has been a part of his life from childhood. "I was always surrounded with films and discussions about the films," he says. "My family discussed films more than politics; they took films more seriously than sports."
His grandfather S Mukherjee was the honcho at Filmistan Studio and then founded his own company, Filmalaya that made such films as Sambandh and Dil Deke Dekho in the 1960s and 1970s. His uncles Joy, Shomu and Rono directed movies, with Joy Mukherjee also acting in over a dozen hit movies like Phir Wohi Dil Layaa Hoon.
Father Debu Mukherjee played the lead in over a dozen films like Sambandh, and directed Karate, a little seen film, which became a cult film.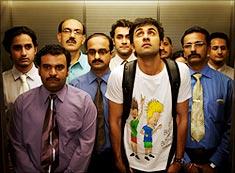 "Never mind the family connection to the movies, never mind the encouragement I have received from many people," Mukerji continues, "I would not have come to this stage had my script been weak."
His lead artists knew, of course, that he was new. "They knew I did not have all the answers as a director and yet both of them were very gracious and indulged me. They let me feel like I was the boss," he says.
Konkona being a seasoned artist knows she has to strive to give her best in every film she takes up, Mukerji says. "She has done many serious films but in real life, she is an easy, outgoing person."
What surprised him most was Ranbir's commitment. "He embraced the film wholeheartedly," Mukerji explains. "It is like he was the partner in this film in every sense." The title of the film was also suggested by Ranbir.
"In India, we have man servants in the middle class and rich families whose work also includes trying to wake up the boys and the young men," Mukerji says with a chuckle." And my film opens with such a scene. That's why Ranbir suggested the title.
It is a very appropriate title, Mukerji felt. "Sid is also waking up for himself. He has to be awakened to take an inner journey."
Irrespective of how the film does at the box office, he is planning for a month long vacation, possibly in a South American country.
"Like many things in my life, the vacation also looks like unplanned," he says laughing.
The same thing goes for his next movie. "Honestly, I don't know what it is going to be, and when I will start," he continues. "But I know I want to make my future films an extension of the subject in my first film. I am not being presumptuous but I would like to make films after Woody Allen's fashion. Many of his films deal with similar subjects (like the anxiety of relationships)."