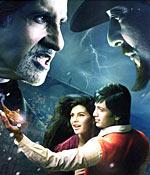 The country's most famous baritone returns to sing for Aladin. And that's reason enough to celebrate.
Composed by Vishal-Shekhar, the music of this fantasy flick has not one but two songs by the star, whose tryst with playback singing has always given us happy results.
Aladin Rap, is Bachchan with a bang. As he hops between the fun English and Hindi lyrics, he displays impeccable timing -- crucial for the genre -- gives a photo-finish to every phrase and sports an attitude to match.
While his lead is supported by Anushka Manchanda's competent vocals, you are left wondering at how a 66-year-old manages to sound so utterly groovy, sexy and spunky at the same time.
The other Bachchan song, Ore Saawariya, is an action-packed trio with Shreya Ghoshal and Shaan. Listening to Bachchan plead with Ritesh/Shaan -- Sasur ghar jaana -- to respond to his lady love's moves, is an experience. The fusion of Indian drums with a solid bass solo spices things up. The track ends with a short but precise alaap by Bachchan, the original perfectionist.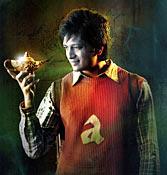 Rewind to Kaalia, with RD Burman and Kishore Kumar giving us the all-time dance favourite Jahan Teri Yeh Nazar Hai.
Well, Ta Dhina Dhin, a duet featuring Shaan and Shankar Mahadevan, would seem like its close cousin. It is folk with a touch of Bappida-style disco, resulting in a cheerful number you will find difficult to sit still to. The sudden changes in pace, rhythm and chords, will keep you guessing about which way the song is headed, and hence glued.
But this is pretty much where the magic starts wearing off. You May Be (Vishal-Shekhar), a soft romantic number, is pretty insipid with very average English/Hindi lyrics and a jaded melody. Whereas Bachke O Bachke (Sunidhi, Shaan and Shankar), comes across as an over-produced electronic dance number that makes no concessions for those who like subtlety.
Sanjay Dutt comes in as the villain of the piece, with Giri Giri. He does try to sound menacing, aided by a nice, thick rhythm section, but he is no singer, and obviously has no sense of timing. Do not listen to this track as a song, but more as a performance and you may not mind it as much.
Aladin's charm lies in its genie. It is not an album you would want to listen to repeatedly, save for Bachchan's rap, which makes all the right noises. Literally.
Rediff Rating: