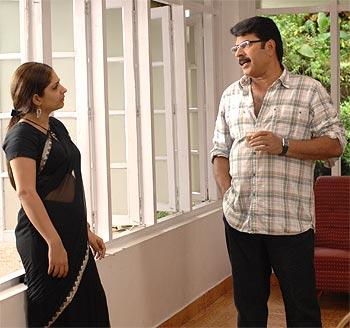 Mammootty dons a double role in director Ranjith's Malayalam movie Paleri Manikyam: Oru Pathira Kolapathakathinte Kadha.
The movie is based on writer T P Rajeevan's novel. Shooting for the film has been completed in Kozhikode.
The storyline goes like this: Haridas, a private detective, is investigating the murder of a young woman, Manikyam, which happened over 50 years back.
Manikyam was killed a few days after her marriage. Haridas is assisted by Sarayu Sharma, a criminologist, in the investigation. The investigation into the killing was stopped at that time, due to the lack of convincing evidences.
Mammootty plays Haridas while Gowri Munjal (earlier seen in the Telugu film Bunny with Allu Arjun) is Sarayu Sharma and debutante Mythili is doing the character, Manikyam.
The other role that Mammootty is playing in the film is that of Ahmad Haji, a rich landlord.
Produced by Varnachitra and AVA Productions, Paleri Manikyam: Oru Pathira Kolapathakathinte Kadha will have a host of fresh faces in the cast, who have been trained by experts after some rehearsal sessions.
Ranjith has gone for fresh actors as he feels that the viewers would accept them without any set images. Also in the cast are Sreenivasan, Siddique, T Damodaran and Shwetha Menon.
Manoj Pillai is the cinematographer and Sharreth the music composer.
Ranjith has scripted Devasuram, Aram Thampuran and Peruvannapurathe Visheshangal before he put on the mantle as the director as well and made films like Nandanam, Mizhi Randilum, Ravana Prabhu, Kaiyoppu and Thirakkadha among others.
Right now, he is also busy as the producer of Kerala Cafe, which has ten short films by ten directors.