Chandrima Pal discusses why Rakhi Sawant's mum was evicted from the house of horrors.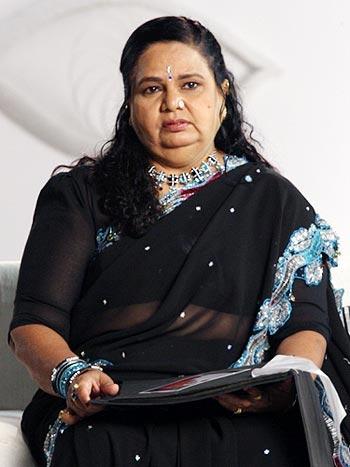 Most of us had not heard of Jaya Sawant when she walked up to Amitabh Bachchan last week, on the sets of Bigg Boss 3.
Visibly uncomfortable in her garish saree and freshly-permed hair, nervous and overwhelmed, Sawant introduced herself to the nation as 'Rakhi Sawant's heartbroken mother'. And in a tiny voice declared that she was there 'to earn the love and respect of strangers since her daughter had abandoned her'.
Not surprisingly, Sawant was among the first ones to be nominated for eviction by her housemates. And the first one to be voted out of the house by the mobile-wielding populace of the country. Obviously not quite the love and respect she wished to earn.
Agreed, Sawant failed to entertain or engage the audience in a no-holds barred game of pretences. But were we willing to give her a second chance as Bachchan hinted? Or does her ouster raise a few uncomfortable questions about acceptance in our so-called inclusive society?
Sawant is guilty of several crimes. She is guilty of having almost no social skills. From the day she stepped into the house, you could see she was petrified, unsure and unable to express herself in a houseful of people good with air-kissing and doublespeak.
This erstwhile nurse, who struggled to keep her family afloat, was a fish out of water amongst the starlets, celebrities and self-styled social butterflies. Worse, she was old. Way older than the other senior lady, who still manages to win compliments from her male housemates.
Predictably, the housemates nominated Sawant as she "cannot speak well," "has a communication problem," "cannot speak English", "is unable to adjust with this youthful bubbly environment". In a gang of television actors, fashion designers, film stars and glamour girls, Sawant in her tacky dresses, thick vernacular accent and rustic airs stood out like a sore thumb.
The housemates were simply echoing the sentiments of the television-watching janta as Sawant's ouster showed us.
The show producers perhaps wanted a stereotype from old Hindi films -- the country bumpkin who fails to match steps with her flashy city cousins is the butt of ridicule and source of bawdy humour. Jaya Sawant unknowingly delivered the goods. The men and women constantly ribbed her, ragged her, humiliated her and Sawant's shocking naivete did not even allow her to see it.
When asked why she thought she was being nominated, Sawant answered, 'Because I am a nobody.' Ironically, reality shows are supposed to be great social levellers. They turn nobodies into overnight sensations. Last season's Hindi-speaking aam aadmi Ashutosh Kaushik and Raja Chaudhary are just some of the examples. But then Sawant also does not have age or beauty on her side. She failed to charm a media-savvy, upwardly mobile, youth and beauty-obsessed society into voting for her.
Why did Jaya Sawant come to the house of horrors? Like so many reality show aspirants she perhaps believed it would be her ticket to immortality, the way it catapulted her daughter to stardom. In fact even Raju Srivastav made a snide remark about how the Sawants were out to make a career out of Bigg Boss. Maybe she actually believed that the show would help her reach out to her daughter, with whom she has not been on talking terms. And she obviously believed Rakhi's Swayamvar was for real and she actually stood a chance of winning Bigg Boss and the prize money.
The reality show audience, which has always championed the underdog, seems to have changed its mind this time. Look at what Sawant was up against -- Sherlyn Chopra whose saucy pictures are all over the Internet, and an audacious trader-turned-industrywallah Kamal Khan who tells Bachchan, 'KRK is too big a star to be evicted in a week's time.'
And no matter how hard Sawant tried to sing and dance and make friends with the enigmatic and conniving housemates, the audiences simply had no patience with this 'auntyji'. Even Vindu Dara Singh, who shed copious tears for her, called her 'mental' as soon as she left the house.
And as she sits with Bachchan looking at video clips of her 'foster family' scheming to throw her out, Jaya Sawant may be thankful to be back where she 'belongs.'
Watch Jaya Sawant on her Bigg Boss experiences

Also read: Namashkar, it is Bigg Boss Tritiya!