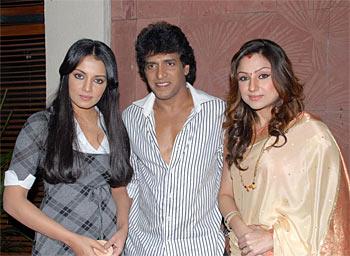 Celina Jaitley is the latest among a growing number of Bollywood starlets who is entering south cinema. The actress has a special role in Upendra's Kannada film Shrimathi, the shooting of which is going on in the Maldives.
The film directed by Sampath and produced by Shankare Gowda, is a remake of the Hindi film Aitraaz which starred Akshay Kumar, Kareena Kapoor and Priyanka Chopra. Celina will play the role (portrayed by Priyanka Chopra in Hindi) of a go-getter who is extremely ambitious and assertive.
"This is one of the boldest roles I have played so far. My character is that of a young girl who wants to have everything she aspires. Performance wise, this role has a lot of scope. I am really happy to be working with a revolutionary actor like Upendra and many talented artists including Priyanka. The shooting is going on very smoothly," says Celina.
Celina has selected her own costumes for the film which were bought all the way from Paris and Bangkok. "I had discussions with my designer who suggested the eighties look of style icons like Zeenat Aman and Parveen Babi. I discussed this with the director and he also shared the same opinion. I selected all the costumes while shopping in Bangkok and Paris. I have two different looks in the film -- one of a collegian in her early twenties and another of a matured girl in her late twenties," she adds.
Upendra has written the story, screenplay, dialogues and the lyrics. "It has been a long time since I did a family oriented film like Gowramma. I wanted to do such a film and when director Sampath brought the script making several changes from the original Aitraaz, I was really impressed," he says.
The film also stars Upendra's real life partner Priyanka who has another special role. This is Priyanka's comeback to films after a long gap. She has acted in H20, Kotigobba, Malla and Rowdy Aliya opposite big heroes like Upendra, Dr Vishnuvardhana, Ravichandran and Shivaraj Kumar.
"After marriage, I had the responsibility of looking after my two kids. Since I was an established actress in Bengali films, some of the directors known to me offered roles in many films there which meant I had to be in Kolkata for the shoot. I was looking for a proper opening in Kannada films for my re-entry when I got Shrimathi. I play a very important role in the film. I am very happy to work with Uppi who is not only a great actor, but a talented director too. Upendra gives a lot of inputs to all of us to improve the quality of the film."
The rest of the cast includes Sayaji Shinde, Prem Chopra, Sadhu Kokila and Doddanna. Johny Lal, brother of famous cinematographer Kabir Lal, is the cinematographer while G K is the music composer.
Image: Celina Jaitley, Upendra and Priyanka.