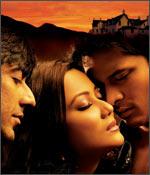 It's like watching someone bake a classic chocolate cake. You know the ingredients. You know the recipe. You know the technique. Heck, you even know the taste. Only there's nothing classic or sweet about Vikram Bhatt's Three-Love, Lies and Betrayal, directed by his assistant, Vishal Pandya.
Even though you know exactly where the plot is headed, the predictability hits a sour note every few minutes with its implausible backdrop and inconsistent screenplay.
Set in the picturesque town of Inverness, Scotland, this charmless rehash of A Perfect Murder chronicles the lives of a violin tutor Anjani Dutt (Nausheen Ali Sardar)  and her unsuccessful software engineer husband, Rajeev Dutt (Akshay Kapoor).  To think they live in a fancy mansion worth billions, Anjani and Rajeev are shown going through a major financial crisis. That explains why Nausheen sports the same brown outfit and white overcoat throughout the film. And the Chanel-monogrammed purse is obviously phony.
Since Anjani refuses to sell this ostentatious property to bail Rajeev out -- it's the only keepsake of her deceased parent's memory and childhood; their marital relationship gets rough and abusive. That, however, is least of Pandya's concerns. Three, conveniently and obstinately, overlooks at any development that deviates from the upcoming angle of extortion and scandal. Instead he engages himself in introducing the third side of this confused triangle, Sanjay (Ashish Chowdhry) -- paying guest in the Dutt chateau.
Unlike the proverbial mystery man, Sanjay is sleazily upfront and visibly deceptive. Seeing as you know where it's all going, Sanjay uses Anjani's marriage woes as license to seduce her. And before you know it, they are an item.
All this time, Rajeev's reactions are unbelievably baffling. In one reel, he growls, grunts and turns into a violent wife-beater. In the next scene, the couple behaves as if nothing ever happened. Not even the news of his wife's affair bothers him.  Schizophrenic script apart, once the betrayals are underway, Three gets convoluted and cheesy to the point of no return.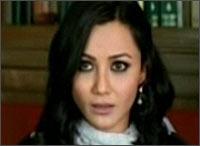 There have been times when good performances have salvaged a badly-written movie. This is not one of them. Considering that neither of the actors have a powerful screen presence or exceptional acting skills, Three is mostly a tedious experience. Added to which, there's no chemistry between the actors -- whether married or cheating.
Nausheen isn't a bad actress (her make-up is!) but addresses her complex confident yet needy character with such stern monotony, it's impossible to render a sense of sympathy. As for the men, both Akshay Kapoor and Ashish Chowdhry are on two ends of the emoting spectrum. While Akshay sticks to a safe frown or an occasional sulk, Ashish is nauseatingly hyper (read overacts).
Speaking of exaggeration, the dialogues, wherein humour translates to distorting nursery rhymes and risqué amounts to 'Maine teri wife ko nanga dekha hai' reek of 'ewww'.
Scotland is breathtaking scenic, especially the Highlands, where Three has been extensively shot. Pravin Bhatt's cinematography does an adequate if not inspiring job of capturing it in frame. Although for a thriller, Three looks terribly lackluster. It could work better with a lot more edgy angles and feisty camera play.
What's good? That's a tough one. Let's see. Besides a crumb of Scotland darshan, the eclectic soundtrack by Chirantan Bhatt has its moments. Can't say the same about Three -- Love, Lies and Bakwas.
Rediff Rating: