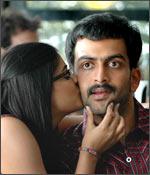 Just seeing Gemini Film Circuit's famous twin icons as they open the movie is nostalgic and this time, they're back with Ninaithale Inikkum, yet another evocative title that brings back memories of the eighties romantic flick. Based on James Albert's story and a remake of the Malayalam blockbuster Classmates, which spawned many college-campus movies, this Tamil one, directed by G N R Kumaravelan, is all about the wonderful college years, free-as-a-bird life and even more doses of nostalgia.
If it had been just that, this would have been an incredibly boring film. What makes it worth the while is that it actually has a plot with a spike of suspense, and even the characters get you interested.
Not that there's any evidence of such things right away. In fact, this movie is extremely predictable in its opening: tough-guy-with-a-heart-of-gold Shiva (Prithviraj, looking magnificently furious, if a tad cliched) beats up bad cookie Vasu (Karthik, of Evam drama troupe fame) because he dared to accost a girl. He has the support of friends Shakthi (Ajmal), a wonder-boy who sings, composes poetry and is full of the goodness of friendship and is asthmatic to boot, and Bala.
On the opposite side of the spectrum is Meera (Priya Mani) the daughter of an MLA and willing to contradict Shiva at every turn. Then there's Sethuraman (Ilavarasu) the crotchety hostel warden, the cook Subramani (Bava Lakshmanan) and lecturer (Manobala) who make up the college side of things. Completing the band is Shali (Anuja Iyer), a quiet Muslim girl.
The story moves back and forth from present (which is a college re-union) to flashback mode, and you get to see slices of innocuous events gradually adding up to present a puzzle.
Shiva is a good student, but is too much the fiery young man who's willing to take up causes at the drop of a hat. You get to see a softer side of him when he romances Meera in his own way -- stand-offish, and unwilling to speak soppy lines. But with someone like Shiva around, life is never smooth -- so there's Vasu, swearing eternal vengeance. The two come to a head during the college elections, but tragedy strikes suddenly: Shakthi dies under mysterious circumstances.
It's a darn good thing there's more to this movie than long monologues about the sanctity of friendship and cliched dialogues -- there's actually a creditable attempted murder mystery, a whodunit that really does get you by surprise, even if only for a few minutes. The characters do speak dippy lines but they also think, feel and react normally, which is a relief.
If only Prithviraj didn't sound so much like a Malayalam student on an exchange programme, it would have been neat. Fortunately, he does make up for it with his intensity, both in the fight scenes and the barely-there comic intervals. Ajmal is all right as the gentle romantic, but you know straightaway that someone this sensitive isn't going to make it through. Karthik and Bala have done good work, as have the supporting cast. Priya Mani is cool and collected mostly until the item numbers where she lets loose, and that just doesn't fit in.
In fact, that's one of the factors that sticks out like a sore thumb in a movie like this. Item numbers (no matter how great Prithviraj looks, clean-shaven, or how well Priya Mani shakes her hips) simply don't have a place. The audience yawns and fidgets when a number appears and Vijay Antony seriously needs to take lessons from his betters in background score. Every emotion is heightened, instruments clash jarringly, and subtlety is taken for a toss until you want to scream. Tone down, pal.
Srikar Prasad's editing is fantastic, especially in one of the fight sequences (in the hostel), and you know the work of a master when you see it. Balasubramaniam's camera-work is neat, especially in the flashback sequences.
If you can ignore the melodrama, the (sometimes) cliched dialogues and item numbers, then this one is actually a decent movie. The Tamil version doesn't exactly pull at your heart-strings like the Malayalam version seems to have done -- but it at least has a plot with all the loose ends tied up. What more do you want?
Rediff Rating: