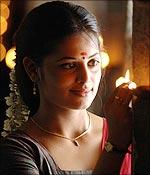 At first, there seems to be nothing in director Shankar's latest production, Eeram (colloquial translation: dampness) to indicate what the movie is all about. The promos show water -- lots of it -- with artistic splashes in an aesthetic fashion. Debutant director Arivazhagan, who has written and directed the film, has turned out a horror/suspense film that strives to score points on logic, novelty and raciness.
The best part is that he actually makes you cling to the edge of the seat most of the time. No mean feat, considering the limitations on mainstream Tamil cinema.

The story practically flies off the runway when you see water dripping from an innocuous flat, flowing over the corridors, and alerting the watchman at 2.30 am. And then, all is pandemonium: a body is discovered in the bathroom, submerged in the tub. She's Ramya Balakrishnan (Sindhu Menon), a young housewife. Her husband Bala (Nandha) is away on a business trip, and the investigating police office calls in Vasudevan, AC (Aadhi, freshly shaven after his murderous debut in Mirugam), who supposedly knows the victim.
So Vasu visits the crime scene, braving the rain -- which is a regular fixture throughout the film -- and slowly, a back-story unravels: a younger Vasu and Ramya were in college together in Trichy. She is the daughter of a stern father who dislikes Vasu instantly, and he is a laid-back, charming young man who dreams of joining the police force.
But their love, like many others, runs through its own share of problems. That's why Ramya is married to someone else, and settled in Chennai.

Meanwhile, we are introduced to several characters, who add colour: Vicky (Srinath), Bala's friend, Divya (Saranya Mohan) and others.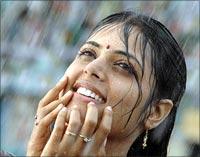 Cut to the present again. There's a really bizarre set of incidents happening. Even Vasu has no idea about what might really be at the heart of the murders, or the murderer's identity.  Along with him, you're (pleasantly) stunned too.

Writer Sujatha's influence is pretty obvious in many scenes, be it the romance in Trichy, or the books Ramya holds when she's relaxing. In fact, the thriller portion itself is an inspired version of one of the writer's short stories, with extra fittings, of course.

What really makes you stay in your seat is the logical sequence of events -- flashback or otherwise, when you're completely absorbed in the movie. It helps that there are no unnecessary item songs or fights to mar the tempo. Scenes change quickly, barely allowing you a yawn, police procedures are shown with meticulous care, and it's a joy to see the police, particularly the hero, following some reasoning.

Arivazhagan definitely deserves a pat on the back for such relentless logic.

On the other hand, the audio quality is extremely jarring.

Manoj Paramahamsa's camerawork is refreshing: somber and serious, with rain always threatening in some form in the present; normal and sunny in the Trichy flashback sequences.

Kishore T E's editing is near perfect until the last 30 minutes -- it could have done with a healthy dose of trimming at the end. As it is, the climax seems forced. 

Aadhi is back in normal clothes after a rural garb and fits the role of a police officer well, physically. Acting-wise, though, he comes across as a little wooden. The same can be said of Nandha. Perhaps they've been instructed to play deadpan but you can't help feeling some more emotion would have worked better.

Sindhu Menon does very well as the girl torn in between forces beyond her control but it's the secondary characters who've excelled.
The SFX team deserves a special pat on the back for the really cool special effects.
Horror/suspense whodunits are a rarity in Tamil cinema, so this one, with its pace, slickness and reasoning is a welcome relief among mainstream movies. Forget the Dark Water inspiration, this one is definitely a must-watch.
Rediff Rating: