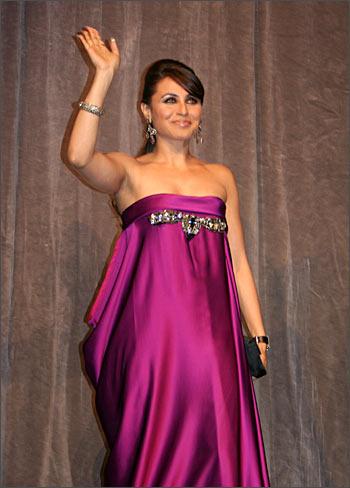 Rani Mukherji walked the red carpet just the way George Clooney and other Hollywood celebrities had done in recent days. But her entrance was far more spectacular than Clooney's.
Rani was at the gala for Dil Bole Hadippa that had its world premiere at the Toronto International Film Festival (TIFF) on Sunday. She was accompanied by over a dozen Punjabi Bhangra dancers. 
Rani, wearing a gown, walked past over 300 fans. However, not everyone was pleased with her choice of gown. "Rani looks good in anything she wears," said Mary Allen a caucasian journalist who was wearing a sari. "I wore a sari for everytime I've seen Rani, in a movie, wearing a sari, I thought how gorgeous Indian women look wearing a sari."
Many fans waved signs that read, "Our Dil Bole Hadippa," "We love you Rani" and "Hadippa Forever." 
Some fans had come expecting Shahid Kapoor for the event; but director Anurag Singh who also walked the red carpet said that Shahid was doing publicity for the film in India.
"Rani is so committed to this project that she flew into Toronto from London, although she could give only a day and a half of her time." She left for London a few hours after the premiere.
"Toronto, I have heard, is a city full of people who love all kinds of movies," Rani said. "Yet our film is a masala, commercial film. And to be featured in as a gala event is a very big honour."
Out of the 21 gala movies, there are three from India. This is the first time so many Indian films have been featured in the gala. Apart from Dil Bole Hadippa, there are Cooking With Stella, produced by Toronto based Deepa Mehta and India's Ravi Chopra (BR Films) and What's Your Raashee?, is the concluding gala film of the festival. 
"We are holding the premiere of the movie in Toronto even before it opens in India," director Singh said. "The film opens across the world this Friday. We knew we had made a very good masala film but we had no idea it could go to a major film festival." 
Though Yash Raj Pictures' Kabul Express was shown at TIFF two years ago, it was not a gala event.
"Everyone at Yash Raj is excited that Dil Bole Hadippa is a gala event. When Cameron Bailey, co-director, TIFF, saw the film and invited and told us that it should be shown at the festival we were over-excited. Our confidence in the film became even stronger than ever before. Shahid and Rani are absolutely thrilled with this film. If Rani had more time, she would have stayed back in Toronto, meeting many of her fans."
In the past five years, TIFF has started showing extravaganzas like Bollywood movies along with austere arthouse fare. Given the fact Toronto has over 350,000 Bollywood fans, from India to Afghanistan, Dubai to Ethiopia, and Morocco to Russia, Indian stars at the festival are a big draw in the city.
A Nigerian cab driver, in Toronto, who waited 2 hours to get a glimpse of Rani said, "We see Indian stars many times in a year but they are busy shooting. They hardly look around them and smile because they are busy with their work. At the gala event, everyone dresses beautifully and everyone smiles. And when Rani smiles, I feel I'm in heaven."
Text: Arthur J Pais | Photograph: Filmicafe.com