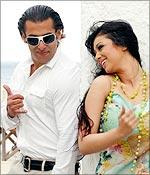 For those who have missed the priceless
Wanted
promo, here's a recap: various shots of Salman Khan walking, talking, 'loving' and firing guns are set to a rather unbelievable voiceover telling us that 'He walks casually... he talks casually... he eats casually... he loves casually... he kills casually... but... he dances seriously.' On cue, of course, we cut to a montage of Salman dancing his feet off. I kid you not.
Wanted is a film directed by Prabhu Deva, the spectacularly spineless super-dancer some call the Indian Michael Jackson, or, even more iconically, Benny Lava. It is an adaptation of the Tamil Pokiri, which he had directed, itself an adaptation of the Telegu Pokiri, directed by Puri Jagannath. I would like to confess to fans of these originals that I haven't seen either of the two versions, but I confess it really doesn't seem to matter: borrowing the delightful phraseology of the Wanted teaser, all I can say about Prabhu Deva is that 'he directs... casually.'
Wanted is a modern-day rarity, a B-grade actioner that really doesn't spend any time trying to class up its tackiness or pretend to make sense. Scenes merge for no reason whatsoever, the girl pops up wherever guns are fired, and Salman Khan's schizophrenic hair changes style in every single shot. The writing is both amateurish and crass, while the songs are plain hideous. And hey, who wants to waste time with twists? Just keep the punches thick and fast.
As a very frequent viewer of Hindi cinema, I hasten to assure you that an overall lack of pretension is a pretty good thing -- even if the product is unashamedly stupid. This film is longer than it should be, often makes no sense, and has one inexplicably bizarre moment involving Vicco Vajradanti, but it's a film that knows what it is. As a film made solely to let a Khan kick a**, it's decidedly more fun than Ghajini. (Not that that's saying much.)
Salman stars as a boorish gun-for-hire named Radhe, one various goons from various Mumbai mafia families hire at various times to kill each other, and Khan dutifully executes for the highest bidder. The ruthless mercenary doesn't ever seem to spend any of his money, however, and hangs around with an entourage of dolts (one of whom is Inder Kumar, best remembered from the horribly, fantastically masala Akshay-starrer Khiladiyon Ka Khiladi).
Meanwhile, Govind Namdeo is a tough commissioner hellbent on scrubbing Mumbai clean, not even letting politicians stand in his way. On the other end of the khaki spectrum stands Mahesh Manjrekar, playing an atrociously lecherous police inspector, as corrupt as humanly possible. The mafia ranks are topped off by Prakash Raj playing all-powerful don, Gani Bhai. And then there's Ayesha Takia playing The Girl, a painfully braindead shrieker masochistically drawn towards our hitman hero.
Yeah, that kinda film.
Salman sleepwalks through so many mediocre projects that it's genuinely refreshing to see him have a ball with this one, throwing himself into both dance thrusts and clever kills with abandon. This isn't a film about acting, perish the thought, but one built around the star and Salman visibly preens in the wolf-whistles-to-be. He's straight out of a really tawdry comic book, but there's no mistaking he's a superhero. He's the goddamned Sal Man!
Ayesha Takia, on the other hand, is given a truly raw deal. She's given a role that can only be described as mentally deficient, and while this isn't always a bad thing in B-movies, it's always sad to see a lovely natural actress shortchanged thus. Her look in the film is inconsistent and unflattering, and it doesn't help that Salman treats her like chopped liver.
I'm informed that the original film had stunts copied from a French film called Banlieue 13. I don't claim to know about that, but I must say action director Vijayan Master (also the man behind the original Pokiri) has done a bang-up job here. The kills are genuinely inventive and entertainingly violent, and while it never really gets gory, there are deaths cleverly sick enough to have been lifted from Mortal Kombat fatalities. And isn't that what matters in a film like this?
Eventually, yes. The first half stretches past its welcome and the romantic interludes weigh heavy on the barely-there narrative, but the second half is largely wham-bam-bodyslam and there's enough killing and cliche to enjoy the predictable ride. Post-interval, it's hard not to begrudgingly respond to Salman's stoic, mean treatment towards Ayesha. We haven't seen a hero this misogynistic in Hindi cinema in awhile, and this layer makes the romantic track bearable, and even, in bits, amusing.
Also resurrecting the second half is the presence of Prakash Raj, and it can't be stressed just how much of a good thing this is. The National Award winning actor goes out on a limb and enjoys every second of his villainy, and while a lot of it is camp, he sneaks in a brief glimpse of his acting chops every now and again. By far the best thing in the movie, this man.
Wanted features a lot that is ill-fitting, most notably the wardrobe. Everyone in the film wears things a few sizes too small, leading to most men flaunting their nipples, from Prakash Raj to Manoj Pahwa to Salman -- though it must be said that his obligatory shirtlessness comes about relatively inventively in this film. And while Sallu occasionally looks good, most of the film has him and his colleagues looking chunky, chubby and out of shape. Hmm.
Khan might be having fun, but the fact a film like Wanted underscores is how badly Bollywood needs a breed of younger leading men. And how the existing lot need roles that fit.
Rediff Rating: