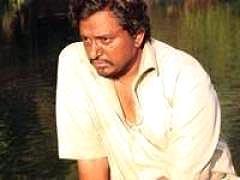 While the harrowing and yet uplifting film Precious won the Cadillac People's Choice Award at the 34th Toronto International Film Festival which wrapped up last week, a little heralded Konkani film from India by Laxmikant Shetgaonkar won the Discovery award.
Shetgaonkar made his feature film debut with the film The Man Beyond the Bridge (Paltadacho Munis), a story revolving mental illness.
"I could have made this film in Marathi and Hindi," he told Rediff. "But I am deeply attached to my mother tongue, and my documentary films are also in Konkani."
"It's a simple film, though it has many layers, about one man's struggle to accept and love a mentally ill woman," he added. "At the end of the day, you may say it is a love story but without songs." It was among the half a dozen Indian films shown at the festival.
He also said that while he was happy that the film was being recognised at the film event in Toronto and it could also travel to a number of major film festivals in Europe and Asia, his main concern is that it should be shown across the country, particularly in the Konkani regions in Goa, Maharashtra and Karnataka.
"I am planning to take the film to rural areas in the three states," the 34-year-old film-maker, said. "To me doing that is as important, perhaps even more important, than taking it to the film festivals."
"Konkani movies have a very small market ... But, since this movie is being screened here in Toronto, it shows that it is all about making a good film, irrespective of which language you make it in," he said.
The Konkani used in the film can be understood by people acclimatised to various dialects, he added. But more important was that the film held appeal to anyone who was sensitive to the stigma attached to mental illness, he said, adding that he would be joyous if it is also shown in art theaters worldwide
Shetgaonkar, whose documentary film A Seaside Story has won many awards in India, worked three years to raise money and make his film, produced by the National Film Development Corp of India.
Meanwhile, the audience prize for Precious, which is backed by Oprah, has increased its Oscar nomination buzz; Last year's victor Slumdog Millionaire went on to Best Picture glory at the Academy Awards, and seven other Oscars
Based on the best-selling and acclaimed novel Push by poet and writer Sapphire, the film tells the story of an obese African American teenager, who is impregnated twice by her father, emotionally abused by her but supported by a teacher who sees gifts and resolve in her.