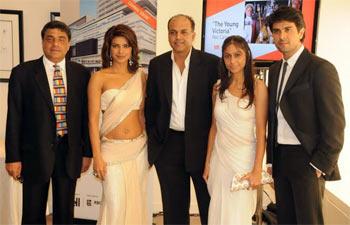 Priyanka Chopra is not the only one with 12 roles in Ashutosh Gowariker's What's Your Raashee. Harman Baweja, who plays the man desperately searching for a woman to wed in 20 days, chuckles as he says he too has 12 roles in the movie. At least, the audiences get to see 12 sides of him.
"Each time I interact with one of the 12 women (all played by Priyanka), my reaction varies," he says. "It is like I am a different person. You see a different side of me when I meet Anjali, who pretends to be a different person so that she can go abroad with me. And then I am a different person when one of Priyanka's characters tries to seduce me. I show another side of me as a physician tries to convince me that I should stay back in India as she has no intention of leaving a rural clinic she is devoted to."
Among the various challenges he faced in the movie was one that had to make sure that the various reactions to the 12 women would not take him away from his basic character. He plays Yogesh Patel, who is brought back to India from Chicago by his father and older brother after they cook up a sob story. A trusting character, Yogesh decides help his brother who has made a big mess of his business and owes a fortune to a Mumbai don.
Harman says working under Gowariker was like 'an intense eight-month long workshop.' It was like going to a fine film school and then learning the business in the real world. Often he would sit in a corner of the set and watch how Gowariker shot the scenes in which he was not going to be featured.
"I never disturbed anyone," he says with a chuckle. "I don't think anyone even noticed I was around."
The film had its world premiere at the Toronto International Film Festival (TIFF) last Friday where it was so warmly received that Gowariker, Priyanka and Harman were overwhelmed. Now, in a few days it will be known if Toronto's luck will work across India and in the overseas territories.
This would be the third release for Harman, 29, who is certainly far better in it than his previous efforts in Love Story 2050 and Victory. He seldom overacts and is relaxed in most part of Raashee.
"I have been working very hard to improve myself as an actor," Harman says. "It does not make me happy if I am in a huge hit but my performance is not adequate. I would rather not be in such a film."
There are times he wishes there wasn't such media hype about Love Story 2050. The hype led to extraordinary expectations among the audiences, and that could be one reason the film did not take off, he feels.
He has just about two films on hand but he is not worried over his future in the movies. "I am in very capable hands," he says, referring to Gowariker and Anees Bazmee, who is directing him in It's My Life. The film is a remake of a Tamil film, and also features Genelia D'Souza and Nana Patekar.  It revolves around a young man whose businessman father tries to make all the decisions for him. But at one point the son has to take his destiny in his own hands.
Most of Bazmee's films have been big hits like Singh Is Kinng, Welcome and No Entry.
"In a Bazmee film, you expect quite a bit of laughter," Harman says. "And this film is not an exception. I am having a lot of fun doing it."
He is not worrying over his raashee, at least for now.