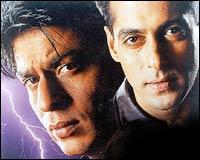 It seems a patch up between Shah Rukh Khan and Salman Khan is on the cards after Salman publicly praised the actor on the sets of the reality show 10 Ka Dum.
In the upcoming episode of the game show on Sony Television, Salman said, "When it comes to romantic scenes nobody can do it better than Shah Rukh Khan. He is professionally great."
A source who was present on the sets of 10 Ka Dum said, "The incident took place when Reitesh Deshmukh, who was a guest on 10 Ka Dum Dus, enacted a scene from Shah Rukh's romantic film Dil Toh Pagal Hai."
Reitesh had come along with cast member Govinda and director David Dhawan to promote the film Do Knot Disturb on Salman's show.
Salman has been known to vent his anger against Shah Rukh ever since the duo fought on Katrina Kaif's birthday party last year (July 16).
While Shah Rukh has always kept a dignified silence about the issue, Salman, on the other hand has openly stated that Shah Rukh is a selfish and mean person. He warned the media not to ask any questions about Shah Rukh when interacting with him. He also warned his friends that he would sever all ties with them if they were to keep company with Shah Rukh.
Now after this turnaround, one can only wait and watch Shah Rukh's reaction.