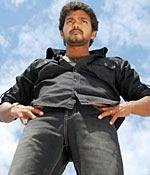 The dust has barely settled from his last release, and Ilayathalapathy Vijay is back again with his next commercial entertainer, Sun Pictures' and Murugan Cine Arts' Tamil film, Sura directed by S P Rajkumar, revolving around the sea and its people.
The buzz for Sura is greater, as this is Vijay's 50th film and is believed to be his last commercial venture. He will, supposedly, concentrate on acting-oriented scripts and subtler roles in forthcoming films.
An added attraction is heroine Tamannaah -- the "it" girl of the season.
With its music tuned by Mani Sharma, here's what Sura's music is all about.
Thanjavoor Jillakkari begins with a medley of male and female voices and strong, crashing beats, rendered by Hemachandra and Saindhavi. This number has semi-erotic lyrics by Na Muthukumar, filled with lusty expressions, longing kisses and English phrases which shout out, Life-e jolly! There is also a loyal dedication to Ilaya Thalapathy himself. The best part of this number is the refrain, a truly catchy Bommaayee, which makes you listen to it more than once. A minus point is that it's a faithful remix of the Bommali number from Telugu's Billa.
The words Enga Vettu Pillai, give a pretty good indication of how exactly the song's going to turn out -- but a flute interlude adds a neat variation to the proceedings. Vetri Kodi Ethu is swiftly paced, with a solid rhythm and proceeds along unexpected lines that sound regal and appealing. Ranjith and Mukesh render the song, penned by Vaali and S P Rajkumar. The lyrics are nothing to write home about, but the song itself, though reminding you of Ullathai Killadhae from Thamizhan, is a peppy number, worth a listen.
Penned by Kabilan, Vanga Kadal Ella, sung by Naveen and Maladhi Lakshmanan is yet another hero-centric number that's all about his prowess, and women swooning over him; presumably a kuthu number. Predictably, it follows the pattern of a dozen others in the same mould, complete with folksy beats and instruments. Yet another reference to MGR's blockbuster Padagotti makes itself known here.
Siragadikkum Nilavu begins in a classy fashion, with a sax segment, until it morphs into a swift paced number and a chorus that goes chikku-mama, and you lose hope. True to expectations, Snehan's lyrics are rather dull, all about syrupy-sweet romance, sung by Karthik and Reeta and have nothing new to offer. Hopefully, the choreography and picturisation might present something new.
Written by Kabilan, Thamizhan Veera Thamizhan, sung by Rahul Nambiyar is the mandatory hero-centric song that heralds the birth of the super-hero, the one who will become the weapon that destroys evil and bring his foes to their knees. The beat is brisk and enthusiastic, but that's all that can be said of it, as the softer sections seem imitations of other, previous works.
With a burst of guitar-strings and keyboard instrumentation begins Naan Nadanthaal Adhiradi. There's a faintly nineties feel to this song, sung by Naveen, Shobha Chandrasekar and Janani Madhan, to Kabilan's lyrics. There's a veena interlude providing some variation, but its mostly heavily synthesized music, to words that lavish praise on Sura -- only expected. Guitars make an appearance again -- and you wish these segments had been given more space. Here too, the refrain is catchy enough, and meant for dancing. Otherwise, it's pretty run-of-the mill. Besides resembling Vaa Chellam from Thoranai, it's a remix of My Name is Billa, once again, from Telugu's Billa.
Sura, like every other Vijay album has all the ingredients that will make his fans insanely happy -- and a couple of numbers that have a broader appeal, despite the remix value. For Vijay fans, it's a definite treat. For the rest -- a couple of numbers match expectations.
Rediff Rating: