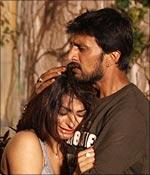 Are you ready to be scared witless come April 16? Then Phoonk 2 is right up your alley.
The sequel to Ram Gopal Varma's Phoonk starring Sudeep, promises more chills and thrills. And just like the first time, there's a contest challenging YOU to watch the movie alone in the theatre.
If you can do it without flinching, you may well win Rs five lakh!
People from across the country can participate by sending 'PHOONK2' to 57333 as an SMS. 
To see if you qualify, read the rules and regulations here.