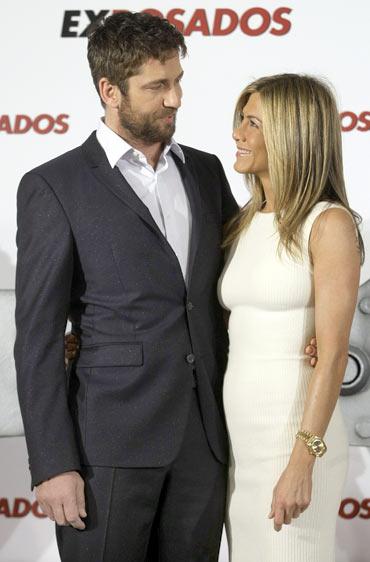 Jennifer Aniston is reportedly expecting a child.
Scottish hunk Gerard Butler, her rumoured boyfriend and co-star in The Bounty Hunter is said to be the lucky father of the child.
The 41-year-old actress and Butler are promoting their romantic film around the world and the rumours of the baby started when Aniston was seen resting her hand on her not-so-flat tummy indicating something during their promotional trip to Madrid, OK! magazine reported quoting sources.
"Jen very much wants to have a baby girl. She had a heart-to-heart with friends and relatives and admitted this is the year she's going to become a mom," a source said.
"Jen adores Gerry and thinks he'd make a perfect father," the source added.
Image: Gerard Butler and Jennifer Anisten pose during a photocall to promote The Bounty Hunter in Madrid.
Photograph: Susana Vera/Reuters