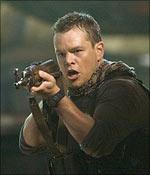 The latest re-teaming of director Paul Greengrass and leading man Matt Damon is set in a fictionalized version of real world events from the not-so-distant past.
If that sentence sounded confusing, please be assured that the motion picture I am writing about is equally chaotic and ultimately, unsatisfactory. There I said it in the first paragraph itself.
Adding to the canon of cinema alluding to the second Iraq war, Green Zone is inspired by a book -- Imperial Life in the Emerald City: Inside Iraq's Green Zone by Rajiv Chandrasekaran.
In the film, Chief Warrant Office Roy Miller (Damon) is tasked with searching recently-invaded Iraq for the legendary (now mythical) WMD (Weapons of Mass Destruction). So naturally, when no WMD turn up in the aftermath of the invasion, questions are asked and fingers are pointed in international political circles.
This movie does not concern itself with matters of macro implication. And as such it plays like a minor work that adds its name to a long (and seemingly unending) list of films that have been made about the US occupation of Iraq.
We are already well aware that Paul Greengrass likes to put the viewer right in the thick of things. Cinematographer Barry Ackroyd's (he also shot The Hurt Locker) jerky handheld camera tries to cover all the action from the middle of it, and as such gives us a great sense of just how unnerving and disorienting battle must be. If this was a 3D movie we would all be ducking for cover on a minute-by-minute basis, and we would also probably be very nauseated.
Matt Damon has proven himself over and over to be a solid performer and he brings his trademark stoicism to the character of Roy Miller as well. Though this is a feature length film it never offers the other characters an opportunity to be anything other than actors speaking their lines.
We see very little of Amy Ryan's Wall Street Journal reporter or Brendan Gleeson's senior CIA agent or even the shady Clark Poundstone (played by a suitably shifty Greg Kinnear). So for all the frenetic camerawork the movie has a turgid feeling it never manages to shake.
Unlike Apocalypse Now or Platoon there hasn't been a single fiction film powerful enough to be the definitive word on this particular war. Perhaps therein lies the dual-sided problem of why films keep getting made on the subject and why very few people end up watching them.
Or maybe in this media-saturated world where one could find clips of actual war carnage on the Internet, the make-believe world just doesn't quite measure up. Either way, there isn't much about Green Zone that classifies it as a must-have cinematic experience.
Rediff Rating: