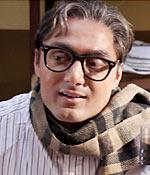 While watching Aparna Sen's latest film The Japanese Wife -- in Bangla, with pretty decent English subtitles -- it's hard not to recognise the director as one who crafts the film, the frames, the shots with extreme care.
Moments are carved out meticulously in Sen's films-- as earthily splendid as that of a local medicine man scratching his hairy breast and pontificating proudly, armed with the condescension afforded to him by a knowledge of English -- and she is clearly marvellously skilled in the art of cinematic surgery, finding the perfect heartbeats for her narrative.
And so it is that The Japanese Wife, a wonderfully shot, skilfully acted adaptation of a most affectionate Kunal Basu story, has almost everything in its favour.
There are some vividly original moments, and a lot of very pleasant atmospherics. The mood of rural Bengal is captured lovingly by the camera, and thanks to much starkness and use of Japanese background music, the feel of the film is quite impressively like modern emotional cinema from Hong Kong and Korea.
As a film, however, it isn't an entirely satisfying experience. I haven't read Basu's story, but from the film it seems too brief and simplistic for a full-length feature, and most of this film passes by with such unhurried lack of necessity that it really doesn't matter if you're looking at the screen or not. It's very pretty, but most of it is unfortunately very pretty wallpaper.
The story is about an introverted Bangali boy called Snehomoy (Rahul Bose) who finds himself a Japanese penpal Miyage (Chigusa Takaku). Despite the fact that she can't pronounce her name (she calls him Senomoy, perhaps a self-winking nod by the director), the two realise that they can't open up to anybody in real life the way they do in their letters, and so much pidgin English is spoken in different accents as the two get to know each other.
It's all very well, and despite rather mundane communication shared with us the audience, the two decide they love each other and want to marry. By which we mean her sending him a ring while he sends her conchshell bangles, and the two carrying on without meeting, circumstances ensuring neither of them can travel to see the other for absolute decades.
Meanwhile the orphaned Snehomoy lives with an old aunt (Moushumi Chatterjee), his life complicated by the arrival of an unexpected houseguest, a pretty widow (Raima Sen) who comes to stay with her infuriating young toddler.
Tragically, too much is spelt out too literally, and to find enjoyment in the film one must look at its various asides: at the fact that two strangers from faraway lands find their voices in a foreign tongue neither can really speak; at how community can be both bound together and sliced apart by something as seemingly innocuous as a day's kiteflying; and at how, in a manner reminiscent of that fine film Lars And The Real Girl, a neighbourhood can jointly pretend to believe in make-believe, bestowing a schoolmaster's long-distance pen and ink nuptials with the respect given to a real marriage.
There are asides, and enough to smile at through the film, even while the letter-voiceovers begin to grate and seem overwritten in their weak English.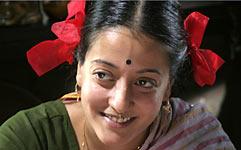 This inconsistency in grammatical errors and overall cloying quality of the letters is further amplified by Bose, one of the most affected actors in our cinema. He gets the look just right but brings a characteristic degree of heavyhandedness to his emotion, especially sorrow, letting the film down severely.
There is a scene involving self-gratification, a scene that could have been heralded as groundbreaking in our forcibly cloistered cinema, but Bose whimpers feebly on a boat and kills it, kills any sense of rawness and realism Sen might have been trying to foster.
Takaku doesn't have much to do but nails the film's ending, and Raima's character -- potentially the most interesting one, a lustful widow not shying away from emotional manipulation -- is handled too one-note and abruptly.
It is the mother figure that works, really. Moushumi Chatterjee is quite startling in her role as the old washed-up aunt, the all-loving self-deriding matriarch. It is a strong, self-aware and solidly confident performance, one that doesn't feel the need to be showy or complex, but just be. She makes up for the fact that all -- yes, all -- of Sen's extras, the ones without individual dialogues, are catastrophically bad.
The bit characters she creates, however -- the wizened old homeopath, the local kite king, the cycling postman -- are all fascinating enough to make us wonder what goes on in their stories.
There is enough to dwell on and smile at, but this Wife is an insipid woman, one with bright eyes and a pretty smile and not nearly enough to actually say. She's refreshingly pleasant, but a large part of sitting down to tea with her will involve looking at your watch and pretending to be interested.
Rediff Rating: