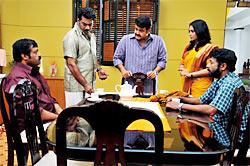 Malayalam cinema has seen many new names promising fresh movies, but more often than not, they turn out to be a damp squib as most of the movies are recycled ones where the technique used is sometimes outright tacky.
Rarely do you find something that is interesting like Janakan directed by newcomer N R Sanjeev. The movie stars Mohanlal and Suresh Gopi.
The premise developed by veteran S N Swamy may not be original but, the execution does take it a few notches above the standard stuff dished out these days. It is the story of 'a hapless father avenging the brutal rape and murder of his teenaged daughter.'
The story is made interesting through the initial intrigue and vigour provided by the screenplay. We see the police searching every vehicle for three fugitives who have supposedly killed three people, an influential businessman, a serving police officer and a youth. The son of the home minister and the daughter of the city police commissioner support them and help them reach the residence of the high-flying lawyer Soorya Narayan (Mohanlal), which is considered safe for them as the police would not dare to touch them there without proper paperwork.
It is here that something that transpired in the past makes Vishvam (Suresh Gopi), Monai (Biju Menon) and Pazhani (Harisree Asokan), fugitives in the eyes of law.
The screenplay does take its sweet time to establish the omnipotence of Surya Narayan, but thankfully, it does not jar very much as it is balanced. The tempo is maintained till the end of the first half but after that, it becomes predictable. The story somewhat resembles the Pashupathy starrer Vairam; the only difference is that Vairam brought parental angst to the fore, while here the narrative works in a thriller mode.
In short, this film heavily depends on the actors to pull it off after the initial excitement dies down. So, Mohanlal has to use his aura to the maximum which he does, making his fans happy. Suresh Gopi in the subdued rustic role wins hands down. Biju Menon and Harisree Asokan are mostly mute supporters. It is pleasantly surprising to see Harisree not in a separate comic track. Jyothirmayi, in the meaty role of Dr Rani Mathew, does well.
We wish editor G Murali had used his scissors more in the second half. That said, the movie works.
Rediff Rating: