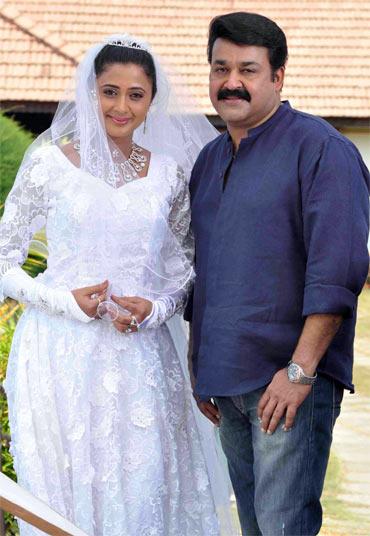 Christian Brothers made more news than any other recent film the moment the project was announced.
A first it was the budget which is expected to go beyond the Rs 3.5 crore limit decided by the producers' association.
Then came the controversy involving Thilakan, who was supposed to do a role in the Malayalam movie. The actor blamed a certain superstar for his ouster from the film which is directed by Joshiy.
Joshiy's last film Twenty 20 with Siby-Udayan was a blockbuster.
Even the star cast caused quite a stir as it boasts of stars like Mohanlal, Dileep, Suresh Gopi, Sarath Kumar, Kavya Madhavan, Kaniha, Lakshmi Gopalaswamy, Suresh Krishna, Sai Kumar and Biju Menon among others.
Mohanlal and Dileep play brothers Christie and Joji respectively. Kaniha and Lakshmi Gopalaswamy play their sisters. The storyline goes through many interesting twists and turns, according to scriptwriter duo Siby K Thomas and Udayakrishnan.
Mohanlal is a high profile police informer, a key figure in Mumbai. But his family thinks he is a goonda. Dileep had joined a seminary to become a priest but opts out after he falls in love with a girl. Now, things take some interesting turns.
The shooting of Christian Brothers currently underway in Kochi. Mohanlal has already started shooting for the film.
Anil Nair is the cinematographer and Deepak Dev the music director. The film is produced jointly by Varnachitra and AVA Productions.