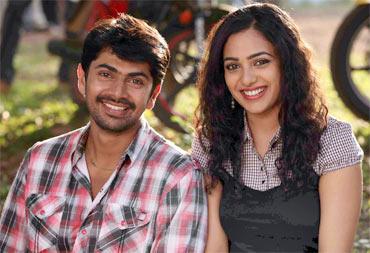 On his 25th year as a director, National Award-winning filmmaker, Sibi Malayil is all set to make a love story.
Sibi Malayil, who has made memorable Malayalam films like Thaniyavarthanam, Doore Doore Oru Koodu Koottam, Aakasha Doothu, Kireedam, Bharatham, Dasaratham and His Highness Abdullah, is shooting his new film, Apoorvaragam, in Kochi.
The movie stars not Mohanlal or Mammooty, with whom he made some excellent films, but Nishan, Asif Ali, Nithya Menon and a couple of fresh faces.
Apoorvaragam, which Siby said is a love story with a difference, is produced by Siyad Koker under the banner of Kokers films.
Sibi said he was on a lookout for fresh faces for the movie and chose Nishan and Asif Ali after watching them in Shyamaprasad's Rithu.
Nishan who hails from Coorg has also done a Telugu film recently. Asif Ali will start shooting for actor-turned-director Sidhdharth Bharathan's debut movie later this year.
Nithya Menon shot to fame with K P Kumaran's Akashagopuram opposite Mohanlal. She has done I V Sasi's Vellathooval, Angel John with Mohanlal and was also noted in Kerala Café.
The crew comprises of cameraman Ajayan Vincent and music director Vidyasagar. Apoorvaragam will hit the theatres in May.