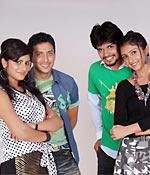 A revenge story gone terribly wrong; that's the Kannada film Parole for you.
The suspense thriller stars Pradeep, Likith, Sooraj, Vishwas and Sharath. It is about how the dark past of a group of rich and spoilt medical students catches up with them years later.
Four best friends, in the name of love, commit a crime when they're in college and are put behind bars. But thanks to their influential family background, they are all let off on parole.
Not having learnt their lesson, the youngsters commit another crime and even manage to go scot free this time due to lack of evidence. But justice must prevail and this time it is in the form of a mystery killer. A string of gruesome murders later, the identity and intention of the murderer is revealed and it is up to you to decide if poetic justice has been done.
Parole starts out well, and manages to retain the curiosity that the pre-release posters have generated. But it's not long before the pace slackens. There are a few twists and turns but they're predictable ones. Even the ending is overdramatic. Heavy dialogues on love and police power are not easily relatable either. Barring one college Rock On kind of song, there's nothing much in the songs department.
Director Rajashekar pieces together a couple of real life incidents well enough, if only his lead cast had put up a convincing performance. The 'real' feel that the director had promised is surely missing in their performances. Pradeep, Sooraj and Likhit are capable of better acting.
One of the leading ladies, Suprita (of Ambari fame) may have little to do, but she holds her own. The film has some big names too -- Kannada films' favourite 'cop' Kishore is pivotal to the script while Ananya Kasarvalli has a cameo role. B Suresh also plays an integral character but has definitely given better performances than the one he has given here.
The film warns the youth about the trouble they could get into due to their unmindful ways but the treatment fails to impress.
Rediff Rating: