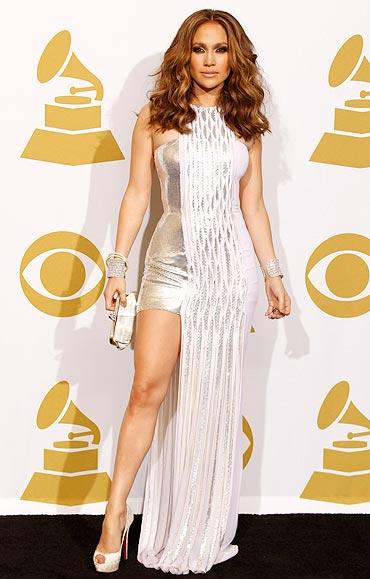 It's her first film in more than four years, that popstar-actress Jennifer Lopez has pulled out all the stops for her premiere of The Back-Up Plan in Miami.
The 40-year-old star looked a picture of glamour as she arrived on the red carpet in stylish animal print dress that hugged her curves in all the right places, Daily Mail online reported.
She teamed the confection with towering heels, a gold clutch and matching jewellery and a soft, gently curled hairstyle.
The singer and actress was joined by Marc Anthony, but it was well past bedtime for their 2-year-old twins Max and Emme.
She recently revealed she asked her husband to keep away from the film's set while she was shooting love scenes with her co-star Alex O'Loughlin.
"I didn't want to torture the poor guy. He shouldn't be watching when I'm seducing another man on a kitchen table," Lopez said.
"Personally I don't like doing love scenes at all, because they make me feel uncomfortable," Lopez added.
But the romantic clinches weren't enough to put her off the script, which she says came about at just the right time.
In the romcom, she plays a single woman determined to become a mother who meets a love interest on the same day as she falls pregnant through artificial insemination.
"This movie was perfect timing. It was the perfect premise -- I could bring everything I had just gone through to the movie, plus I love romantic comedies and it's what I wanted to do," Lopez said.
Her last big screen offering, the 2006 drama El Cantante with husband Anthony, which flopped at the box office.
"With this movie, I knew it was going to be different from the others before it. I had a new confidence, and a new stillness in my performance that I feel was a result of the kids," she added.
The Back-Up Plan will be released in the UK next month.
Photograph: Lucy Nicholson/ Reuters