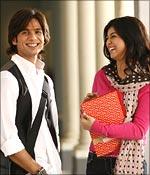 Unfortunately the title of this film will have most parents' think of it as a children's film. But Paathshaala is not a kiddie flick.
Neither is it targeted at an adult audience. In fact Paathshaala is a film which won't keep anybody entertained (young or old). After the blockbuster hit Taare Zameen Par it was only a matter of time before another film on the evils of the education system was churned out. So now director Milind Ukey brings us Paathshaala.
Saraswati Vidya Mandir is an educational institution which nurtures kids and upholds education as a noble profession. The man at the helm of affairs is principal Nana Patekar (Aditya Sahay) a man who has sacrificed his life for the school, never felt the need to get married; in short, a model principal.
Then the trustees of the school feel the school isn't generating enough revenue, it isn't a brand name, and all that spiel which goes with it. In this scenario enters the young idealist Shahid Kapoor (Rahul Prakash Udyavar) who is horrified at what's happening in the school. 
Paathshaala is clearly inspired by Taare Zameen Par or maybe it's a coincidence. But the similarities cannot be missed. Shahid loves his profession and all the kids he works with. There is no romance in his life. But Taare stayed focused on a single issue whereas Paathshaala hopes to dwell on all that is wrong with our system today. The film meanders on and the audience is wondering whether this is a docu-drama being churned out by Films Division. 
Everything about the film is one-dimensional. The school itself is a set and looks like a cardboard cut-out. The characters are all good or all bad; there are no shades of grey.
The supporting cast of teachers looks straight out of a TV serial. Kurush Deboo (better known as Rustom Pavri from Munnabhai) plays Cyrus Hansotia a pessimistic teacher who carries his own duster and flings chalks around the classroom. Sushmita Mukherjee is Mrs Bose, a bumbling Bengali geography teacher who stumbles in and stumbles out of the frame. And that's all they do right through the film.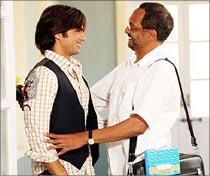 So as Nana Patekar sets out to compromise on his values and generate profits for the school, several issues are raked up. Selling stationery and sports goods at higher prices, vending soft drinks and junk foods which are harmful for kids, increasing the fees mid-year, it's almost like the script writer and producer Ahmed Khan created a list of grievances which had to be included in the film. But they do not come together to form a cohesive screenplay.  
If this wasn't enough the film also deals with the issue of reality shows. But facts are presented in a confused haphazard manner. No school can send children for a reality show audition without explicit consent from the parents. The crew behind reality shows is loud-mouthed and offensive.
Then the school also gets into a brand building exercise. Most of our films have on or two villains but in Paathshaala everybody is out to exploit the kids. Then of course it's time for some media bashing. It happened in Paa and once again here. News channels run all over the place without any sense of responsibility. SVM is an oasis surrounded by loonies and money-making sharks. 
Since the makers claim it's a children's'  film let's come back to the kids. Ali Haji (Fanaa, Partner) hams it up through the film. Swini Khara (Cheeni Kum) is her usual precocious self. There is also the poor working-class kid who doesn't have enough money to pay his fees and the kid who suffers from a physical disability. The makers probably hoped the audience would shed a tear or two but the audience is now languishing in a state of apathy and intense boredom. 
It's the last 10 minutes of the film with the two lead actors Nana Patekar and Shahid Kapoor which saves the film. Both of them act in a calm, mature manner and the scene makes some impact. Which the rest of the film does not!  
The music by Hanif Shaikh has two hummable numbers. Ayesha Takia is wasted in the film. 
Paathshaala has its heart in the right place. Unfortunately everything else is not.  See it if docudramas are your cup of tea.
Download ringtones and wallpapers
Rediff Rating: