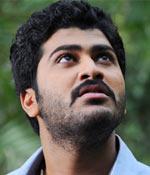 Director Deva Katta sets the Telugu film Prasthanam against a political backdrop but infuses it with a bit of everything -- father-son relationship, children-stepfather relationship, sibling rivalry, the greed for power and the lengths anyone can go to retain it, the lack of morals, etc.
More importantly, he chips in a bit of philosophy of good versus evil in the journey of life! The tale has no new elements besides the philosophy.

Prasthanam essentially unfolds as a political drama at one level. Mitra (Sharwanand) is at Lokanath's side (Sai Kumar) when his father is killed. When Mitra's father is killed by the rival faction (as he wants to be a politician to thwart the rival party's efforts), Lokanath marries his widow with two children at his leader's behest. They have a son Chinna (Sandeep) through this marriage.

Mitra follows his stepfather (whom he considers him as father) into politics and is made the youth leader of the party. There are other characters in this drama like an industrialist Basi Reddy (Jeeva), politician Bangara Naidu (JP Reddy), police inspector (Ghose), a trusted aide etc who play important roles.
While the father is avaricious about power, the younger son Chinna (Sandeep) indulges in drugs and alcohol. He gets implicated in a murder too which has its impact in tarnishing the image of his father at election time. But the father indulges in his usual play and wins. Chinna can't digest Mitra getting into politics and the rivalry between the two starts. The father also does a volte-face.

We have seen all this before: the lack of morality among politicians, how power binds them and releases them, the coterie, the police being in league and so on. But all is not mayhem and there is some righteousness too albeit to some extent in the form of Mitra. To some extent, it is reminiscent of Leader especially the political bits. On another level, Prasthanam is a human drama with emotions, feelings and sentiments.

Deva Katta makes the first half quite riveting with a fairly gripping screenplay. The flashback shots of the grandfather and Mitra's childhood shot in black and white make for a good watch. It's in the second half where the director seems to have lost control as he lets his product fall in a domain which is rather incongruous with the first half. He falls prey to commercial elements and introduces three unnecessary songs which disturb the momentum. Also, the inordinate length of the film (close to three hours) is quite a deterrent and the interest wanes after a while.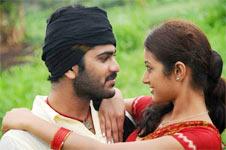 Saikumar ensures a brilliant performance in a role perfectly suitable for him. He is absolutely convincing as the shrewd politician.

Sharwanand delivers a good, yet restrained performance. He suits the role of Mitra to a T and his dialogue delivery is also fine. It's these two who hold forth the canvas with their powerful portrayals.

Sandeep is quite a surprise as he plays Chinna with all the anger and angst. Newcomer Ruby Parihar doesn't have much to do in the film except to prance around in the songs.

On the technical front, the film certainly warrants some trimming. Mahesh Shankar's re-recording is quite effective.

Watch Prasthanam if you like long films with a political backdrop.
Rediff Rating: