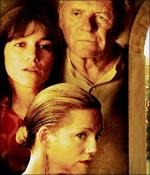 Why would The City of Your Destination, a film directed by a veteran James Ivory and featuring Anthony Hopkins, who has worked with him twice before, take nearly four years to complete? The short answer -- Ismail Merchant.
Ivory's producer partner for nearly five decades, Merchant was well-known for getting a new co-producer even if their last film had flopped badly.
"The films James and I make carry some prestige, and they are often based on well-known books and feature good artists  (Howards End, The Remains of the Day starring Hopkins)," Merchant had said.
"So people take the risk of investing in our films." Ivory had said in an interview several years ago that he just did not know how to raise money for any movie. "How  Ismail does so film after film is a mystery to me."
The company is run by two executives who have worked for it for over 15 years.
But when Merchant Ivory's The White Countess, which cost $20 million barely made $1 million across the world in 2005, the veteran producer wasn't around anymore to get new investors aboard for his next venture. He had died following a surgery before the ill fated movie's release.
The City of Your Destination, which is now showing in a handful of cities in America, was planned in 2007. But the $8 million film, which ran into deep financial problems, and needed the name of the veteran Hollywood producer Ashok Amritraj as an executive producer before it could find a buyer, was finally completed last year.
Just as The City of Your Destination was getting into the theatres, George Eastman House, the photography and film museum in Rochester, NY, announced that it has acquired the 2,600-element film collection of Merchant Ivory Production., including more than 40 film titles, correspondence, and film memorabilia.
The new film focuses on an American doctoral student Omar Razaghi (Omar Metwally, last seen in an excellent performance in Rendition) who wins a grant to write a biography of an eccentric but reputed dead Uruguayan writer Jules Gund. But he must get through to three people who were close to Gund -- his brother (played by Hopkins who has a vested interest in getting the book written), widow (the ever luminous Laura Linney), and younger mistress (Charlotte Gainsbourg) before he starts his research.
With Ivory approaching 80s -- he is 81 now -- the task of selling the film was far from easy. There are just a handful of directors in Hollywood and America who are above 70 -- and these include Clint Eastwood -- and who are considered commercially viable.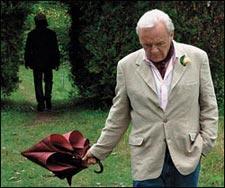 Folks at Merchant Ivory Productions whisper that without Merchant, an ever upbeat showman who kept on producing films despite having no success throughout the 1990s, it was extremely difficult to get investors and producing partners.
The New York Times reported last week that the film was financed partly by selling some of the company's assets.
Some of the initial reviews have been encouraging.
Declared the veteran reviewer Re Reed in The New York Observer: 'The City of Your Final Destination, based on the novel by Peter Cameron, assembles many of the cherished Merchant Ivory values: meticulous writing by the Oscar-winning Ruth Prawer Jhabvala; an expertly drawn cast headed by Merchant Ivory favorite Anthony Hopkins; a languid and literary pace that elevates viewers without ever compromising their intelligence; gorgeous cinematography and art direction; and a cinematic elegance as rare in contemporary films as genuine wit.'
But whether the audiences can warm up to an elegant but slow-moving film, which is released by an independent distributor and with low key publicity, and help it earn $16 million (the beak even figure) is anyone's guess.