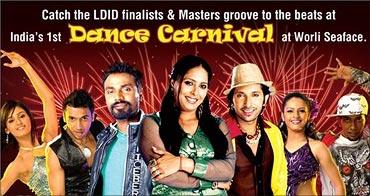 Ever imagined that a television show with a cult following across India will step out of the tube and onto the streets of Mumbai?
Well, come Sunday (April 18), the streets of Mumbai or more specifically, the city's Worli Sea Face will see a medley of performances as Zee TV brings the magic of its dance reality show Lux Dance India Dance through a dance carnival.
Zee TV's marathon promises a riot of colours with an interesting melange of stilt-walkers, lezim troupes and tattoo artists. The crowd will be encouraged to groove to some Hip Hop, try their hand at Ballet, do the Dandiya and sashay to the beats of Salsa.
With the grand finale of Lux Dance India Dance just around the corner, Zee TV is looking to delight its audience by giving them a rare chance to match steps with their favourite dance masters Remo D'souza, Geeta Kapoor and Terence Lewis at the carnival.
The top four finalists of the season will wave out to cheering fans from atop floats as the resplendent parade proceeds to Worli Sports Ground. The culmination will see a medley of performances by the contestants of the show.