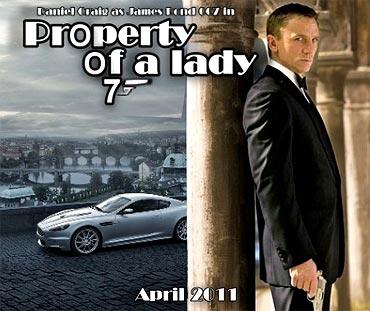 James Bond, the feared Agent 007, who has stared down any number of threats during his spectacular half-century career on the big screen, has been put on the shelf -- at least for the time being.
Shooting for the upcoming Bond film, the so-called Bond 23 (it's the 23rd in the series), has been suspended indefinitely, according to a statement released by the film's producers Michael G Wilson and Barbara Broccoli of EON Productions.
"Due to the continuing uncertainty surrounding the future of MGM and the failure to close a sale of the studio, we have suspended development on Bond 23 indefinitely," the producers said in a joint statement.
"We do not know when development will resume and do not have a date for the release of Bond 23."
In January, reports had indicated that Bond 23 could be delayed due to MGM's financial troubles, but many close to the project insisted it would make it's scheduled release date -- late 2011 or early 2012.
That now looks very unlikely.
Bond star Daniel Craig, who's earned rave reviews for his portrayal of the iconic character, reportedly said of the news, "I have every confidence in Barbara and Michael's decision and look forward to production resuming as quickly as possible."