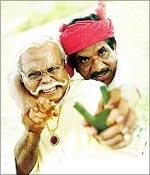 Director Shankar's productions have always brought something new to his audiences.
His latest, Rettaichuzhi, starring veteran directors Bharathiraja and Balachander has already raised expectations. Directed by Thamira, the movie's said to be a full-length comedy revolving around the two men.
The album has music scored by Karthik Raja and lyrics penned by Vairamuthu. Here's a listen at the collection:
Beginning in quite a soothing fashion, with the flute creating a classical touch is Bum Bum Bambara Kaathu. Rita and Violin Padma share the vocals here, and remnants of Karthik Raja's earlier songs find an echo here.
Belly Raj and Rita pitch in for Poochandi Kannazhagi, a bizarre and rather hilarious medley of romance, the earthy style – it's full of comparisons to gourds and erukkampoo. The pace is catchy and brisk. The instrumental medley is interesting in patches but the charanam rather lacks in appeal. The best part is the pallavi itself ; enthusiastic and peppy.
Another romantic number, this but Para Para Kili, sung by Deepa Mariam and Rahul Nambiyar, is soothingly alluring. The mild instrumental music fades into the background, letting the vocals take over, and that is its principal attraction.
Pattaalam Paruda, presumably the kid-friendly number that so often forms a part of such collections, is sung with creditable enthusiasm by VKS Fowsia, Arman Malik and Sarwan. Brief flashes of band music provide a variation and the second instrumental interlude is a rather pleasant combination of western and classical.
It's a pleasure to hear Hariharan, Haricharan and Sriram Parthsarathy's voices soar to musical heights in Naan Endu Sol. The entire sequences takes you right back to Priya Saki from Gopura Vasalile but even if it's heavily inspired, this number, with its dignified musical arrangement and melodious voices, is still a pleasant listen with its rich angst and gentle sorrow.
Hariharan and Shreya Ghoshal get together for another version of Poochandi Kannazhagi, which, in some inscrutable fashion, actually sounds better than the previous version. More pacy, and enthusiastic, if you will. The same goes for Hariharan's Naan Endu Sol. The anguish seems to rise a couple of notches.
Karthik Raja's music has always had a unique stamp and in this case, aside from one or two run-of-the-mill occasions, the numbers are pleasant to the ears. The appeal is increased by the lyrics which certainly get your attention. Rettaichuzhi is worth a listen.
Rediff Rating: