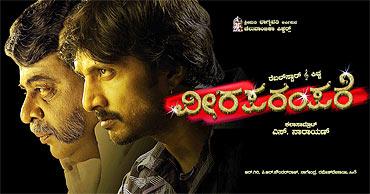 Three Kannada film industry bigwigs have joined hands to make a film celebrating Kannada and its culture.
The film in question is Veeraparampare which brings together Sudeep and director S Narayan for the first time. Veteran actor Ambareesh will also be playing an important role in the film.
The team recently shot in a 150-year-old house that is said to belong to the family of Karnataka's brave queen and freedom fighter Kittur Rani Chenamma.
The house located in a village near Belgaum, has been shown as the residence of Ambareesh and Vijayalakshmi Singh, who play husband and wife. Apart from the sentimental scenes, a few action sequences were also shot in the village.
Heroine Aindrita Ray has also joined the team. They will next move towards Gulbarga for shooting.
So kicked were the actors about working with the director that they didn't even ask for the script before accepting the project claims Narayan. "They all said that the name S Narayan was enough for them to sign the movie," he recalls.
Having said that, he reveals that he had initially planned to direct a remake and it was Sudeep who suggested that they go in for a straight subject. "We had everything in place and the film was to go on floors last November itself, but Sudeep called me one day and said that since it was the first time we both were getting together, we must consider filming an original story. I had spent a lot of money on the previous script, yet I agreed to the idea. Sudeep also didn't mind the fact that the project would be further delayed and his dates wasted."
Once the new script was ready, Narayan had the task of convincing Ambareesh to act in the film.
"One of the lead characters is a very well loved and respected village elder and I could imagine no one but Ambareesh in that role. When I first approached him, he was grieving the death of his close friend and actor Vishnuvardhan. He was feeling low and answered in the negative. But I didn't give up and went back to him after a few days. He agreed to act but a few minutes later reconsidered his decision and said that given his "unpuntual" tag, it may be difficult for me to finish my project on time. Not wanting to force him, I accepted his decision, but half an hour later seeing my disappointed face, he said he would act. I don't think I would have gone ahead with the film without him."
Ambareesh joins in to defend his "unpunctuality".
"Yes there have been instances when I have turned up late to shoots but that's only because of my political commitments. People, at times, come to my house asking for help just as I am about to leave for a shoot. How can I turn them away? Also, film industry people come home to discuss things and I can't just get up and leave."
On a lighter note he continues, "But Narayan, by choosing to shoot mostly in North Karnataka, which is boiling in heat, has ensured that we all finish the shoot as soon as possible."
The heat is less of an issue for Sudeep as he is excited about sharing screen space with Ambareesh. "It's going to be fun on the sets too as he is a very funny person," he adds.
Director, turned actress Vijayalakshmi Singh is also looking forward to act with the veteran actor. "When I wanted to act, I didn't get opportunities, but now when I have gone behind the cameras, opportunities are coming my way. I could not refuse this as it was Narayan's project. All the same, I am very nervous as I am cast opposite Ambareesh," she says.
Shobraj is also a part of this venture. "If Narayan is making a film, I know I'll have a role in it. Veeraparampare is like my home production," he says.
This film is Narayan's 17th production. He has also written the script, screenplay and dialogues.