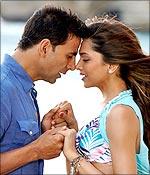 There is tacky, there is trashy and then there is a whole new depth of shamelessness that can be found in a film that ends with footage of its producer's birthday party.
That's right, the closing credits of Sajid Khan's latest film Housefull feature video from Sajid Nadiadwala's birthday party, complete with shots of cake, cast and crew assembled grinningly around the producer. It's an unbelievable new low, and trust Sajid Khan to hit it before anyone else does.

The film itself is just as distasteful. Just as you've stopped cringing at a typical farcical stereotype, another one comes along: the black baby makes way for the gay jokes, after which come pun-laden Sikhs Santa and Banta, all while people reassuringly tell their elder brothers things like 'oh, of course he's rich.' You get the drift.

The director of Heyy Babyy is an offensive humourist, and while there might not be anything wrong with that approach per se, he tries far too hard to forcibly inject consistently lame humour from every pore of his film. Watching Housefull is exhausting, above all else.

It's also a film starring Akshay Kumar surrounded by a parade of increasingly bad actors. The superstar occasionally (very very occasionally, maybe three times in total) deadpans a bad line and makes it shine, but around him is a festival of bad acting: led by Deepika Padukone of the miraculous legs and plasticky expressions, Jiah Khan who can't stop smiling, presumably at being in a film of this scale, Lara Dutta louder than ever, Chunky Pandey trying to play an Italian, and capped by Arjun Rampal, whose scowling world-weariness reaches ridiculous heights as he grimaces to himself in a bubble bath.

To Kumar's credit, keeping a mostly-straight face in this monstrosity is quite a feat. The writing is abominable, the plot not worth a mention, and the generous helpings of syrupy melodrama around the 'comedy' plain unforgivable.
You may wonder if this film's a ripoff of any particular Hollywood DVD, but Sajid would probably say its his homage to Ben Stiller's worst films, picking plotpoints from Along Came Polly, The Heartbreak Kid and Meet The Parents.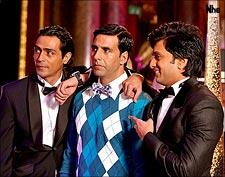 Leave all that aside, however. Bad taste, plagiarism, lack of logic: none of these are impediments to an effective comedy.
Khan, however, seems to be daring us to enjoy this uneven film, serving us essentially a Priyadarshan farce, only replacing Paresh Rawal, Rajpal Yadav and Asrani with people who look good in bikinis.

The funniest moment in the film -- and there are very, very few contenders -- comes when Riteish Deshmukh, driven to hysterical giggles presumably by the sheer absurdity of it all, talks about a phone falling into a bathtub and joyfully puns on it, calling it having 'phone tub-ble.'
Yes, that is the film's finest moment -- not particularly hard to believe when two grown men slap around a father-figure with great gusto, over and over again in the hope that there will be laughter. Well, when they aren't slapping a monkey, anyway.

On the Akshay Kumar filmography, this film deserves pride of place right between Chandni Chowk To China and Kambakkht Ishq. Kumar's paid dozens of crores for this shtick, but what's your excuse for watching?

Rediff Rating: