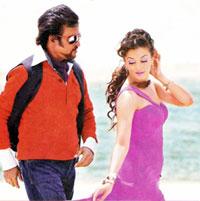 Pavithra Srinivasan reviews the Tamil album, Endhiran (Robot).
Every film of director Shankar or superstar Rajnikanth has beaten previously set box office successes after Sivaji, their first venture together.
Now with Sun Pictures' Endhiran, science-fiction adventure, the hype has only increased. This time the dynamic duo has join hands with another icon, A R Rahman.
Proof of their excitement is evident in the way Shankar and A R Rahman have penned their thoughts in the helpful lyric-booklet that accompanies the CD: "How do I describe Endhiran? It is excitement, entertainment, a huge, fresh dream ..." goes on the director, while the music maestro calls it the movie "that will define Tamil cinema."
A score of lyricists such as Vairamuthu, Madhan Karki and Pa Vijay have contributed the words to this much vaunted blockbuster in the making. Here's a look at what Endhiran has to offer.
First off we have what sounds like machinery powering down, followed by a forlorn echo. You can't really recognize S P Balasubramaniyam's voice without his name being mentioned. A R Rahman's voice is easier to make out, as it really suits the robot format -- unemotional, crisp and metallic. The lyrics are themselves meant as an awakening, and Khatija Rahman's young voice adds an almost reverence to it. This of course, is only the prelude to the much more zest-filled Pudhiya Manitha. Veteran SPB's voice gives full vent, touching the high and low notes with equal ease. The ending is strangely peaceful. It's a song that celebrates a new birth, and it does justice to the event.
There's no doubt at all about what kind of song Kadhal Anukkal is going to be -- the melange of instruments that warble in a delighted fashion tell you that it's yet another scientifically romantic number, bringing Newton along for the ride. It does remind you, in parts, of an earlier Rahman number, Omana Penne, but has enough drive to carry it on its own strength. The refrain in particular is catchy, even as Vijay Prakash and Shreya Ghoshal sing with enthusiasm. Though it doesn't scale heights of brilliance, it manages to be sweet.
The Chitti Dance Showcase, as a departure from other numbers is, as you might expect, a piece meant to display the many perfections of the robot. Rendered by Yogi B, Praveen Mani and Pradeep Vijay, it's a mixture of synthesized rhythms and carnatic music, even bringing in a dash of melodious western symphony on occasion. It's short and to the point.
Irumbile Oru Idhayam begins with heart-thumping enthusiasm, while a female voice kicks off the refrain with energy practically flying off the CD. The futuristic mood is ever-present, and appropriately, the number starts in English. Rahman himself takes the vocal reins in a voice modified to suit a robot. It fits in quite well, especially in accompaniment with Kash n Krissy. The song itself is abrupt and has a choppy feel, entirely suitable for the mood of the song. It's all romantic, this number, but suffused with equal parts of sensuality. You can't help but smile at phrases where the robot "fails to shutdown" at night. In fact, it's the English rap that rather fails in its appeal. The robot's "voice" in itself, and the faint angst in it are quite pleasant; it's easy to fall into its rhythm.
The lion-king arrives as Arima Arima kicks off with trumpets blaring and then into ominous, royal-esque music that heralds, not surprisingly, the arrival of a king. The song is typically hero-centric, with both male and female lavishing praises on the hero. Certainly, the superstar's image stands up well to the praise, and the rumbling background arrangement adds to the depth. Like a good many of Rahman's numbers lately, the song, sung by Hariharan and Sadhna Sargam seems to slip away from a structured format. There's a good deal of English thrown in too. Still, certain phrases, like "Akrinaiyin arasan naan," and "Kaamutra kanini," are unique and intriguing. Others, like "Aisukke Ice," though a direct and flattering reference to the former Miss World, aren't that appealing. The second instrumental interlude has certain interesting variations, before returning to the charanam which heaps accolades on Aishwarya Rai Bachchan as well. There's a certain majesty to the song; the refrain works quite well, which goes a long way towards elevating this song from just another praise-filled number to one that gives you something, musically.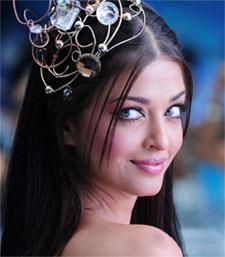 Kilimanjaro begins, expectedly, with a distinctly African feel -- drums, what feels like a spider chittering across a table-top, a gaggle of words, a thumping beat. Javed Ali and Chinmayi kick off the high notes. It's simplistic, steady, and the words are a jumble of Thamizh and who-knows-what, but when accompanied by the rousing rhythm, make you forget. Rather jarring are the "oohs" and "aahs" that add an erotic note to the song for this is a rather modified kuthu song. Not the pick of the selection, but it has the instrumental arrangement going for it.
Thundering rhythms take you into Boom Boom Robot Da, which kicks off in the best synthesized music style. Lyricist Karki has mixed and matched Isaac Asimov, Isaac Newton and Albert Einstein in his ode to the robot, while Keerthi Sagathiya, Swetha Mohan and Thanvisha sing with enthusiastic abandon. Yogi B contributes a touch of rap to the proceedings, even as the music rapidly becomes Indian. The instrumental arrangement takes some getting used to, particularly as its meant to be a futuristic compilation of sorts. One moment it sounds like something out of the 25th century, while the next it goes to the past, even sounding at times like one of Rahman's earliest hits from Thiruda Thiruda. The second interlude, a mixture of humming and piano notes is pleasant. There's lot of love for the robot, with plenty of the superstar's own epithets thrown in. It's fast, loud and furious, but only mildly appealing.
Endhiran is, in fact, a perfect superstar album. Where the collection does manage to veer from the usual, Rahman has managed to add his own quirky, creative notes to the songs. 
Parts of the album actually rise above the usual flattering themes and do create a unique musical experience. It might not be the brilliant effort reserved for off-beat works but this is a mainstream entertainer, and the maestro has put together numbers that make an intriguing listen.
Rediff Rating: