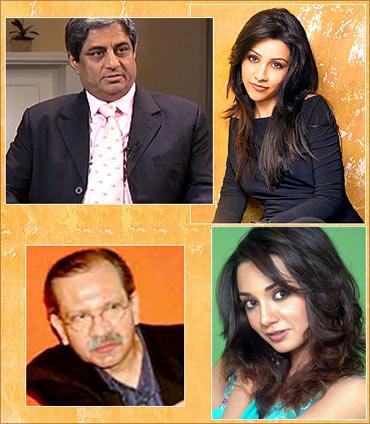 Everyone knows
Sonam Kapoor
's famous dad,
Anil Kapoor
.
But did you know that other two actresses in Aisha also have famous fathers? Not from the movie world; they are corporate heavyweights.

Amrita Puri's father Aditya Puri (top left) is one of Indian banking's true legends. Managing director of HDFC Bank since 1994, he has established the bank as a hugely respected financial super-institution.
Amrita, (top right in this picture), worked in an ad agency before deciding she would become an actress.

Her dad had reservations about an acting career, but like most dads, confronted by daughterly determination, gave in and wished her luck.

Ira Dubey, (bottom right in this picture), has been acting on stage since she was six.
Her mum Lillete Dubey is an actress and stage director, who has featured in movies as diverse as Karan Johar's Kal Ho Na Ho and Mira Nair's Monsoon Wedding in which Ira's elder sis Neha also acted.

Ira's dad Ravi Dubey (bottom left) joined the Tata group in 1977. When he quit the Tatas in 2004, he was the group's well-respected senior vice-president, corporate communications.

Ravi then joined Hammer and Partners as corporate advisor, but later set out on his own as a consultant in the hospitality industry.

Ravi, who also acts on stage, appeared in Yash Chopra's Silsila, playing Amitabh Bachchan's friend.