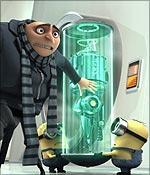 Elvis D Silva reviews Despicable Me.
Gru (Steve Carell) has had two dreams since he was a little boy -- to go to the Moon; and to make his mother (Julie Andrews) proud of him.
He attempts the latter by trying to become the most feared super villain in the world and to achieve Number One Super Villain status, he draws on his other childhood dream, the Moon. His big plan – to steal it. So when a new villain named Vector (Jason Segel) comes along and makes it nearly impossible for bald, beak-nosed Gru to achieve his goals he has to think differently. What he does, and how he does it, is the story of Despicable Me.
This is a film where the positives extend across the length and breadth of the movie. The characters are well etched, the animation is top notch, the laughs are frequent and the soundtrack is noteworthy too (look for the excellent title track by rapper/producer Pharrell Williams).
The real fun begins when three little girls -- Margo (Miranda Cosgrove), Edith (Dana Gaier) and Agnes (Elsie Fisher) come into Gru's life. Although we've watched big meanies in other movies have their hearts changed by little children, and you know the same is inevitable for Gru, the journey is so much fun it hardly matters that you've seen this kind of transformation before.
Each of the little girls has her own character, which comes through very clearly in the storytelling and when the film ends, everybody is likely to have a favourite girl from the trio. Mine was Edith.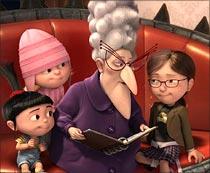 This movie proves, yet again, that 3D is best employed in animated features. The first-person views of the trip down a rollercoaster will actually induce a racing heartbeat and make you feel like you are on some crazy ride. The revelation of the mischief Gru's cute but nutty minions can get up to along the depth of the frame is also amusing to experience.
Animation has been a tricky realm. Whereas the wizards at Pixar consistently deliver movies that are the right balance of storytelling heart and visual pizzazz, other studios have had hit-and-miss records, mostly in the story department. With the passage of time Despicable Me is certain to find its place amongst the classics.
Despicable Me's strength is good old fashioned storytelling -- excellent characters, attention to detail and a journey that is just pure fun. This is a movie that will play well to everyone from six to sixty (and beyond).
Rediff Rating: