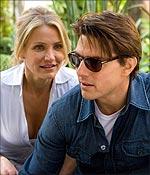 Elvis D'silva reviews Knight and Day
He is a secret agent with an unclear agenda. She is a hopeless romantic, who is in a hurry to get home for her sister's wedding. He comes off as slightly nuts. She turns out to be more capable than she looks. When their paths cross, quirky cinematic sparks fly and romance and thrills are on the cards.
Welcome to the 'new Hollywood' people 00 where the men have to be soft and the women have to be tough. Even when they are played by Tom Cruise and Cameron Diaz respectively -- two stars who have made a name for themselves playing a specific kind of character.
Sure, he can lay claim to having played a variety of roles, but the truth is, they have almost always been the same character -- cocky, with a winning smile and great hair.
She cannot even really claim to have any range beyond essaying the kooky blonde with the joyous smile and the legs that go on for miles. Only difference is, the previous incarnations appeared in enjoyable movies. So why would they insert a dash of 'crazy' into his portrayal of Roy Miller, the secret agent who may (or may not) have gone rogue? And why would they try to get her to play June Havens as a regular girl one drop kick away from unleashing her inner Charlie's Angel, minus the former's charm or dance moves?
The easy answer is 'who knows'? The harder, less easily-grasped answer is that Knight and Day is a movie so bankrupt on an idea level that the filmmakers (this is definitely a movie that was made by committee) saw fit to bring a dash of 'different' to the mix that neither fits into nor enhances this cocktail.
So things go bang at irregular intervals, there is the central idea of an 'invention' that is certain to save the world's problems, except that it could multiply those same problems if it falls into the wrong hands. So suddenly, our quirky couple is caught up in a bizarre 'we want the invention' jugalbandi between a Spanish arms dealer (Jordi Mollà) and another agent (Peter Sarsgaard) and nothing makes sense.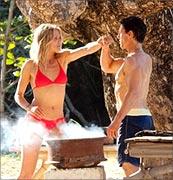 There really was no reason to establish her as a motor vehicle restorer if the only payoff was going to be a scene that played off a video monitor. The cool thing they did with her blinking in and out of consciousness as time passed in the narrative was quickly killed when they repeated the trick two more times.
The special effects and green screen work is atrocious. These standards may be acceptable in a Bollywood film (lower budgets, you see) but they certainly don't explain why a major Hollywood film featuring stars as big as Tom Cruise and Cameron Diaz looks the way Knight and Day does. And as if all of that is not enough, there is the most distracting, uninspired music generating atmosphere throughout the film.

Sure, other reviews will tell you to suspend your disbelief or to rephrase it in our unique style of expression, 'leave your brains at home' while watching this movie. And if that is your choice, this movie might amuse you a little. Or it is possible that some survival instinct will kick in and you will feel compelled to rebel against this and other such forms of banal entertainment.
This is the guy from Cocktail and Top Gun and the Mission: Impossible movies. She was one of Charlie's Angels, she was Mary, hell she was the girl that gave so many of us a 'who is that!' moment when she lit up the screen in The Mask. If we say it is fine for stars who have shone as brightly as these two to insult our intelligence like this; if we let them take our hard-earned money by appearing in a movie as generic and slipshod as this one, we deserve to be swindled as often as we agree to willingly step over the threshold of a multiplex and hand over our cash just so that we can pass a couple of hours staring at pretty people being paid millions to not do their jobs.
Why is this the fault of the stars you ask? Because it is with their participation that such movies get made. Even those among us who know nothing about films and filmmaking know that there have to be more entertaining stories out there.
Rediff Rating: