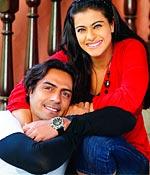 S
ukanya Verma reviews the music of We Are Family (watch the trailer here).
Spider-Man was rechristened Makdee Manushya and Hell Boy became Narak Putra!

Karan Johar, thankfully, isn't into dubbed movie nomenclature and spares us a title like Sauteli Maa for his official remake of Hollywood's Stepmom. Instead he picks a more relatable name, We Are Family for his shot-in-Australia production.  
Directed by first-timer Siddharth P Malhotra, the family drama about two women caught in an extraordinary situation stars Kajol, Kareena Kapoor and Arjun Rampal as Susan Sarandon, Julia Roberts and Ed Harris respectively.
Besides a stellar cast, K Jo ropes in his favourite troika of Shankar-Ehsaan-Loy to helm the soundtrack around Irshad Kamil and Anvita Dutt's fairly generic lyrics.
The composer team, nevertheless, bring in their characteristic lilting touch as evident in the opening duet, Aankhon mein neendein. After collaborating with S-E-L on Sajda (My Name is Khan) and Bol na halke halke (Jhoom Barabar Jhoom) Rahat Fateh Ali Khan matches his crisp, nimble vocals against Shreya Ghosal's honeyed flavour to summon a rosy picture of new romance.  Although Aankhon creates the necessary ambiance, it lacks that additional something that distinguishes an 'ah' from an 'oh'.
After the success of Kal Ho Naa Ho's Pretty Woman, the music directors dole out yet another acceptable cousin of an international classic. This time around Akriti Kakkar and Suraj Jagan led by the fierce enthusiasm of Anushka Manchanda take on Elvis Presley with this mostly desi, willful and lyrically-challenged version. Can't say if the King of Rock and Roll would approve of this screechy ode but full marks to the zesty trio for trying.
Just when you begin to crinkle your nose with a tinge of building disappointment, the electrifying combination of Shankar Mahadevan and Vishal Dadlani comes to the album's rescue with the high-pitched sentimentality of Reham o karam. At times reminiscent of Noor-e-khuda (My Name is Khan) in temperament and atmosphere, Reham is much too poignant, tender and compelling to report the resemblances much less complain.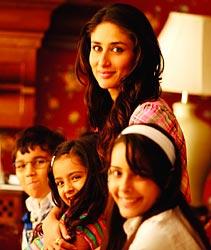 The emotional frame of mind carries on via Sonu Nigam and Shreya Ghosal's flawless rendition of Hamesha & forever, a melodious albeit melancholic tribute to eternal affections. The song's a mix of warm acknowledgement and inevitable goodbyes in keeping with We Are Family's tragic theme.   
Like a gently whispered prayer, Sun le dua yeh aasman continues the sorrowful streak. Following her playful delivery of Su chhe in What's Your Raashee?, Sa Re Ga Ma Pa Challenge winner Bela Shende holds it together to exude the anguish of looming loss of a loved one.
The essence of Sun le's sadness is retained as the running tune in We Are Family's instrumental theme as well. More than anything it gives you a fair idea of how kerchief-friendly, the film plans to be.
Having said that, Shankar-Ehsaan-Loy are known to devise penetrating score with memorable results like Tanhayee (Dil Chahta Hai), Maa (Taare Zameen Par), Kitni baatein (Lakshya), Kal Ho Naa Ho (KHNH). But barring a couple of heartfelt creations, their effort in We Are Family is nowhere close to this afore-mentioned legacy. Maybe that explains the presence of bonus songs from My Name is Khan, Kal Ho Naa Ho, Kabhi Alvida Naa Kehna and Wake Up Sid on the CD.
Rediff Rating: