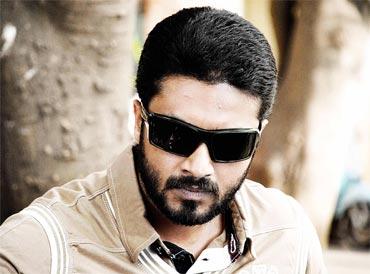 Will Deadly 2 prove lucky for Audithya? That's what the actor who needs a hit (the industry too) is waiting to find out this Friday when the Kannada film releases.
The film has been generating a lot of interest not only because Deadly Soma, the prequel, was a huge hit but also because the first part ended with the hero being 'encountered'. How then is the return of Audithya justified is what everyone wants to know.
While director Ravi Srivatsa and his team of actors are tight lipped about the plot, they are not shying away from marketing the screenplay as the real hero. The film has 131 scenes and 79 of them are in the first half itself. But the length of the film is just a little over one and half hours and the narrative pattern used is said to be different.
To follow the film that revolves around the underworld elements, one must pay proper attention starting from the titles itself, the team further tips us off.
The film was about an educated youth who takes to crime. Audithya's character was based on that of Bangalore don Somashekar.
Action unlimited is also promised in the film. Certain scenes are as real as they can get, claim action director Thriller Manju and his assistants. In fact Audithya had injured his back while performing a stunt. But the actor says the pain was worth it.
The film will also see a semi-nude Audithya running in some of the busy streets of Bangalore. The actor also recalls having cried without using glycerine in the film.
Despite all the action, Deadly 2 is not devoid of sentiments which explains the presence of actors like Suhasini and  Meghana. In fact, Meghana says her role is going to stand out. "I have conveyed a lot through my expressions and thus felt challenged as an actor," she adds. 
The film also stars Devraj, who was in the prequel as well. Ravi Kale is the other big name in the film.