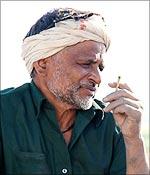 He ran away from home at the age of 15 to become a singer but destiny had different plans for veteran actor Raghubir Yadav, who, after essaying a medley of characters on bigscreen, wants to go behind the camera.
The actor, who was the brains behind the Ramleela sequence in Delhi 6, says he has 3-4 scripts ready with him and will soon make his debut as a director.
"After running away from home I joined a Parsi theatre and lived a nomadic life for almost six years. I want to make a film on my experiences there. It need not be a story of a village but will be about a small town where both Indias meet," Yadav told PTI in an interview.
The actor says his directorial venture will be different from run-of-the-mill stories that Bollywood is infamous for. Yadav, who plays a farmer Budhia in Aamir Khan's latest production, Peepli Live, a dark comedy on the growing disconnect between rural and urban India, says he was not very happy with the kind of films being made in the "Bollywood factory" and planned to take a break that was cut short by Anusha Rizvi, the film's director.
"My disappearance was because I was not happy with the kind of films being made here. But when Anusha approached me with the script of Peepli Live, I immediately said yes because as an actor, you are hungry to play such roles," says Yadav, who has also sung the popular track Mehngai Dayan from the movie. Though his musical plans did not materialise, the actor is more than happy with his day job as an actor, which helps him slip into different characters.
"Music will always remain close to my heart but I find that actor's job is the best. You are only given one life to live but here I get the chance to live so many lives. How many people do that? You face so many sweet difficulties while transforming into a different person. It is fun," he says. The only actor to star in India's three Oscar-nominated films Salaam Bombay, Lagaan and Water, Yadav says film acting leaves him dissatisfied.
"Restlessness is a part of me and that extends to my films also. I spot so many mistakes in my acting once I am done with a film that it makes me cringe. There are certain scenes in Peepli Live which I feels could have been better but unlike theatre, you cannot improvise in films," he says. The NSD graduate hopes that the film, which was shot in a real village, will break the monotony in Bollywood.
"The film has broken the monotony at the box office and has been liked by filmmakers too. Let us hope that they learn something from Peepli Live. It should certainly help change the language of Hindi cinema," Yadav says. The actor will next be seen opposite Paresh Rawal and Randeep Hooda in Kushhar Prasad Ka Bhoot and Chali Chali Re Patang.
"These two films will be released before December this year. They are good movies. I am also reading some good scripts. Let us see what happens," he adds.
© Copyright 2023 PTI. All rights reserved. Republication or redistribution of PTI content, including by framing or similar means, is expressly prohibited without the prior written consent.