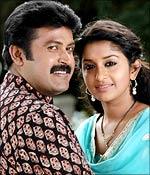 Paresh C Palicha reviews the Malayalam film, Pattinte Palazhy.
This Onam season sees a change in the Malayalam film industry. With no big releases at the theatres, small films are trying their luck at the box office. The first among them is Pattinte Palazhy directed by Rajeev Anchal and starring Meera Jasmine as an aspiring singer earger to make a mark in the film industry.
The story is set in 2002 in Chennai where Veena (Meera Jasmine) is trying to a mark in the music industry. She has her father's (Jagathy Sreekumar) full support in this endeavour. She survives by singing tracks. As if to give more depth to the premise it is shown that Veena's late mother had nurtured the dream of making her daughter a famous singer. Veena is mentored by a Hindustani classic singer (Nedumudi Venu), an eccentric recluse with a mercurial temper.
As the story progresses, we are introduced to Aamir (Manoj K Jayan), whose father was a fan of the Hindustani maestro. Aamir has made it big by dubious dealings in sandalwood. It is love at first sight for him when he sees Veena. He lures her by promising her to put his might behind her career. Later, however, he shows his possessive streak after the marriage and puts a full stop to her singing. This makes Veena a schizophrenic. The conflict quotient of the situation is overly exploited, and that jars when seen through the meditative pacing of the narrative.
The story is a bit sketchy to say the least. At first it gives the impression that it may be about the inner workings of the music industry of yore, with some historical references thrown in. Then it moves into the realm of marital discord and ends up being a typical psychological drama (which every three out of five films end up being these days. Even Anchal's previous film Made in USA had R Madhavan playing a person with suicidal tendencies and Sreenivasan a psychiatrist) with an internationally reputed psychiatrist coming to the rescue.
The script lacks cohesive connection and the characters look pretentious than real.
That leaves the main cast to fend for themselves. Meera Jasmine as the central character tries to glue the scraps together with her performance, but that seems to be too much to ask from her. She is all too sweet as the young girl and mannequin like as a woman with artificial curls and heavy make up. But the effort to perform seem to be heavy on her; the casualness in her acting is missing.
Manoj K Jayan as the chauvinistic husband is a cardboard cut-out. His characterisation leaves him with very little to explore as far as craft goes.
Jagathy Sreekumar as Veena's father is more credible in a seemingly minuscule role. Revathy as the internationally renowned psychiatrist makes her presence felt in the end.
Overall, Pattinte Palazhy has a lot of promise but fizzles out by the end.
Rediff Rating: