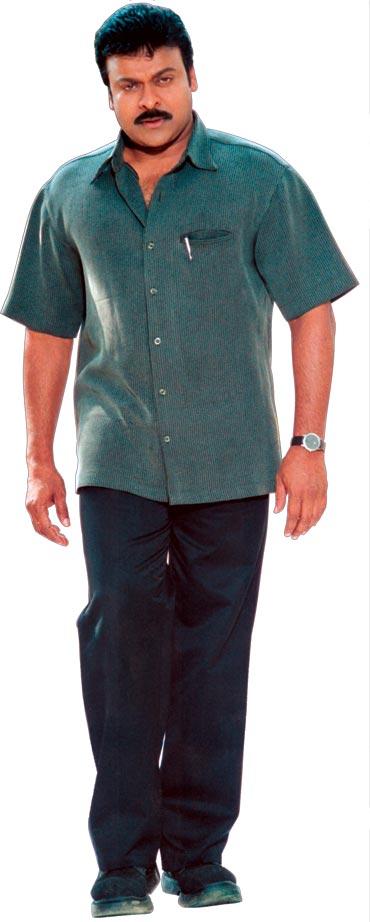 Telugu movie star Chiranjeevi is likely to be where he is most comfortable -- under the arc lights, very shortly.
He is expected to make a come back to filmdom for his 150th film. His son, Ramcharan Tej, announced that his father will act in his 150th film which will in all probability release next year on the megastar's birthday.
Well, put it down to the pressure from his fans who want him to act, or his own reason to do so after his short 'stint' in politics, he has shown that an actor can't be kept away from his craft for very long.
More so when his ilk (contemporaries and older actors) continue in films. Perhaps, the urge return to films is quite strong enough to make him make that move.
Or maybe he wants to take a welcome break from politics. It is to be seen how he will juggle his political and acting career successfully.
Chiranjeevi had hinted about his comeback at the recent audio release of Rajnikant's Robot which was a fun-filled evening when a lot was said about Robot and friendly digs were taken at other actors.
When Chiranjeevi took the stage at the end, he said he was jealous of Rajni after seeing the trailers of Robot.
"I thought Rajni would enter politics, so I plunged into it early. But, he did not, and made Robot. I feel cheated since I have entered politics and can't back out now. Recently, my fans asked me to do a film, but I said, no. After seeing the trailers of Robot, I feel like doing a film again. If at all I do a film in future, it would be thanks to Robot," he said at the event.
Chiranjeevi also hoped he would do a film with Shankar.
The buzz now is that the megastar is listening to scripts. Chiranjeevi has done 'message-oriented films towards the end of his first innings. Now he would perhaps be looking for a powerful film for a power-packed re-entry!