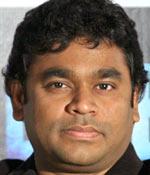 Chennai, the home city of A R Rahman, erupted into spontaneous celebrations as the music maestro bagged two trophies for his score in Slumdog Millionaire at the 52nd Grammy Awards in Los Angeles.
As the news of the 'Mozart of Madras' notching up the awards spread, his fans were ecstatic and celebrated the feat by distributing sweets and bursting crackers.
Rahman's family members and fans also cut a cake in the street opposite his home in the Kodambakkam area.
"I am very happy once again when I heard that my brother got the award. He called my mother at 3 am and informed (her)," Rahman's sister Fatima told reporters at her residence at Virugambakkam area in Chennai. She said that she had sent a congratulatory message to her brother.
Students of several city colleges also joined in the celebrations distributing sweets. Joyous scenes were also witnessed at Rahman's AM Studios in Kodambakkam, where many from the film fraternity reside.
Congratulate Rahman on his own Fan Page
Want to listen to the songs? Click here to listen to Jai Ho and O Saya
Video: Rahman thanks his audience