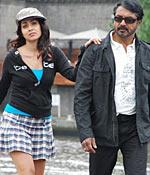 What was director K S Ravikumar thinking? This is the first thing that pops into your head when you sit through half an hour of Radaan Media's Tamil film Jaggubhai.
The much-touted blockbuster-in-the-making was originally reserved for Rajnikanth.
Admittedly, ripping off from world cinema isn't anything new as we see "inspirations" form part of the package deal here. But making away with entire scenes from Luc Besson's Wasabi isn't doing anyone favours, especially when the copycat is not a patch on the original.
In the beginning, at least, you try to give the director points. You've got Jagannath IPS aka Jaggubhai (Supreme Star Sarath Kumar, shorn of his title.) in a three-day stubble flecked with grey (major points here), but who still manages to send all the junior officers skittering around in fear.
He saves children and is duly congratulated by everyone from the Chief Minister onwards, but there's a permanent sadness etched in his eyes. A sorrow that's not even erased by the charming, if rather obese attentions of a pub-singer (Kiran, on a come-back mission) because he's pining away for the attentions of another pub-singer, his long lost wife in Australia, Ilavarasi (Srisha).
Even his father Commissioner Rajamanickam's (Vijay Kumar) entreaties are in vain. But one day, disaster strikes Jaggubhai: his wife's dead, leaving him guardianship of daughter Monisha (Shriya) who he never even knew existed.
One thing's clear though: Shriya might be no Ryoko Hirosue (who played the daughter in Wasabi), but she at least tries very hard to be a rather naïve and innocent girl suddenly bereft of her mother. Sarath Kumar is no Jean Reno, stubble notwithstanding. All through his visit to Australia and the so-called bonding sessions with his daughter, he looks like he's misplaced his wallet except when he's rough-housing the Australian police (who wear sloppy uniforms and seem, for a police force, absolutely clueless).
He soon sets on a mission to hunt down Hamid Ansari, the chief villain who is someone Sarath made an enemy of during his days as Jaggubhai, an undercover cop, and who, though swearing eternal vengeance as soon as Sarath steps on Aussie soil, seems not to have cared one way or the other for the past 21 years.
Together with MIB aka Kariappan (Goundamani, yet another come-back with stringy hair), Sarath Kumar duly takes on all the thousand-and-fifty-one goons single-handedly, shooting at random, and making excellent use of the stunt directors.
Characterisations are left to rot by the roadside (except for brief moments like the one when Jaggubhai's daughter is abducted by villains, and he chases after them, only to realize that he doesn't even know her name). Editing too is a horrifying enterprise with shots ending midway and T D Rajasekhar's camera zooming all over the place. Rafee's music, which sounds all right in isolation becomes silly upon picturisation.
Goundamani is the only one who, despite his ape-like wig, provides very brief moments of levity. Shriya, though not successful in acting (even as a druggie), tries and besides, she gains brownie points by looking hot in various skimpy dresses (never mind that she's being pursued by a whole horde of villains at any given time.). Why she speaks in a determined American accent, despite being born and brought up entirely in Australia, is a perennial mystery.
A major disappointment is Sarath himself, despite being given a role that would make any actor go green with envy. To give credit where it's due, he's at least opted to play a role suited to his age (even if he does slip conveniently into a wig and glossy moustache in flashbacks). On the other hand, he's a drummer, a super-cop, Arnold Schwarzenegger and Mother Teresa all rolled into one, so there's precious little chance of acting.
The biggest culprit, though, is K S Ravikumar, supposedly the expert in providing perfect masala fare. Did the director simply hand over the reigns to one of his assistants? It looks like he lost interest in the project halfway through. None of his signature touches are present, except in the last scene where he makes his mandatory appearance. The screenplay is silliness personified, and the Australian crew all look like they'd rather be elsewhere.
Which is rather what you feel, when you've exited the movie.
Rediff Rating: