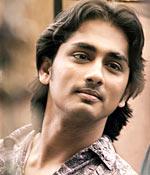 When it comes to indoor sports, Carrom scores like no other. 
Unlike Chess, it's not entirely dependent on an analytical mind or a stroke of luck for the dice to be cast in one's favor as is the case with Ludo. In addition to brains and fortune, it also asks for a deft pair of fingers. Though some may argue its degree of dynamism, fans of the game will vouch how they experience pure bliss on hearing the clicking sounds of a smooth striker against the boric powder-brushed wooden board.
The metaphors of carrom form the backdrop of Chandan Arora's Striker, which travels to and fro in the 70s, 80s and 90s to draw a connection between its key player of dubious morals, his murky circumstances and his quest to find a cover for his queen without succumbing to deceit.
And what a match it turns out to be.
An exciting, non-linear narrative opens with an anxious young man (Surya played by Siddharth) unsuccessfully persuading a cabbie to drop him till Malwani. It's the last month of 1992, a hauntingly dark, distressing time for Mumbai, addressed as Bombay in the film and around that period. 
At first he bumps into a group of Hindu fanatics who promptly apply a fierce red tilak on his forehead as a gesture to acknowledge him as one of his own. The mark is subsequently wiped off and substituted with a bandana around his head after he encounters yet another angry mob of Muslim fundamentalists.
Daunted by such close run-ins, Surya begins to run like he means it. Thus unfolds a potpourri of flashbacks which reveal us the true nature of his personality and the direction it's headed to on its conclusion.
From raw, shrewd and volatile to scaly, stark and composite, Striker, inspired by true stories, raises a sea of grim adjectives so vigorously employed in its script and the protagonists it leads to, you cannot help but stay gripped and glued. 
The focus shifts upon his young life as a boy, dwelling in the crammed ghetto of Malwani (in suburban Mumbai), skipping school but taking to carrom after watching a discerning session between his elder brother and adversary. Even as they indulge in a seemingly harmless pastime, the lure of making some money out of the same introduces them to the menace and mercy of local don, Jaleel. Meanwhile he learns the tricks of the trade well enough to bag a National championship at junior-level.
Carrom takes a backseat as he gets busy growing up to make a living and serenade the girl next door (Nicolette Bird), a breezy albeit inter-religious romance that's nipped in the bud at the event of discovery. It's only when his best buddy Zaid (Ankur Vikal), a free-spirited, cocaine-driven, hyperactive, street-smart ruffian convinces him to put his striking skills to good use, Surya begins to get intimate with the underbelly of his sinister neighbourhood letting us inside an intently multi-leveled and incisive chain of thrilling episodes. 
Arora keeps it taut and nail-biting all through especially when he works the movie's mood around a game. One of the most noteworthy moments of Striker involve a crucial match wherein tension mounts up owing to a significant character proving to be a constant source of irritation and all this while you anticipate foul play just around the corner.
It's a terrific build up to precisely-timed dread. Considering the going-ons in the film are too many and too integral to ignore, it's imperative to pay attention, which I am assuming will be a bone of contention for many.
The complexities and fast-paced nuances of its script are perceptively captured in P S Vinod's flawless camerawork and reverberated effectively through Striker's eclectic soundtrack, in particular Vishal Bhardwaj, Amit Trivedi as well as Shri's rousing background score.
Clearly, Striker doesn't aim at being a bam-wham kind of flick. Instead it offers a study into the uneasy coming-of-age of an individual on-the-fence over the life he wants to embrace. Surya is neither as manipulative as Kaminey's Charlie nor as dignified as Slumdog Millionaire's Jamal. But they all have one thing in common -- a desperate need to get out of the rut.
An astutely-penned drama for most part it's not entirely devoid of hiccups. Like the face-off between Anupam Kher's good cop quipping about Kapil Dev's yorker in retort to bad guy Aditya Panscholi's cricket reference to Imran Khan's bowling.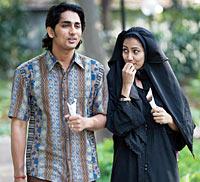 Apart from this shred of cross-border jingoism, there's an entire sub-plot that owes it 'rape redeemed by marriage' roots to Anil Kapoor-Juhi Chawla's 1994 melodrama, Betaaj Badshaah. It's one of the most unnecessary chapters in the movie doing absolutely nothing to move or prop the story.
Ultimately what makes Striker a big deal is not its obviously visceral atmosphere or the various tangents it branches into but an impressive ensemble of little to unknown faces that allow you to interpret the story with an entirely fresh perspective. With the glaring exception of Panscholi who plays a scar-faced gang lord in the exaggerated tone of a Sanjay Gupta crime caper, all other actors, lend a little something to the scene.
Ankur Vikal's abundant flow of physical energy and expression resembles the likes of Pawan Malhotra, Makarand Deshpande and Deepak Dobriyal, which if honed in the right direction could produce something spectacular. Even as Anupam Kher keeps it wonderfully restrained the women in Surya's life played by Padmapriya, Nicolette Bird Seema Biswas and Vidya Malvade, despite the briefness of their parts, lend Striker its only source of warmth.
But this is a Siddharth vehicle from start to finish. To his credit, the Rang De Basanti star channelises his spontaneous presence to slip nimbly under the skin of a carrom genius, shifting his body language from a concentrating player to a smooth-talking, snarky lad entangled in a web of crime with restraint and conviction.
An interesting film with a lot on its mind, Striker isn't comfort cinema but I will recommend it anyway.
Rediff Rating: