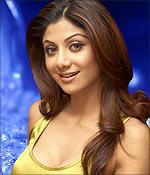 Extending support to Shah Rukh Khan, actor and IPL team Rajasthan Royals celebrity co-owner Shilpa Shetty on Wednesday said it was unfortunate that the actor was being targeted for expressing his opinion.
Shiv Sena has threatened to stall the release of Khan's upcoming film My Name Is Khan after he refused to apologise for his remarks favouring the inclusion of Pakistani players in IPL.
"It is everybody's right to express his opinion. It is a fundamental right. When a film gets affected, the entire industry gets affected. I stand by him as a human being," Shetty said when asked about her take on what was happening with Shah Rukh's film My name... in Mumbai.
"My relationship with Shah Rukh goes beyond films. I have a lot of respect for him. I was introduced in films with him. It is really unfortunate that he has to face brunt of all this," Shetty who was in Ahmedabad to launch new music video for the forthcoming IPL season, told media persons.
"This issue has been already politicised a lot, I do not want add more fuel to the controversy," she added. She said as far as support for Shah Rukh was concerned she would always support him.
"As far as what he has said is concerned it is his fundamental right to voice his opinion," the actress said, adding she was not here to defend Shah Rukh's statement. She said the decision to select Pakistan players or not was never based on their nationality.