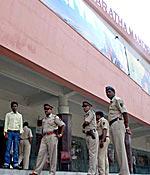 The Shiv Sena is in no mood to forgive Shah Rukh Khan's stance on Pakistani players at the Indian Premier League, and the superstar finds no reason to apologise.
The result? The release of his new film My Name Is Khan is being disrupted at Mumbai theatres.
Friday may see a bit of tension in the city, as the Shiv Sena is likely clash with theatres to stop the film's screening.
If you happen to be around and notice any violence or demonstrations against My Name is Khan, here's your chance to play Citizen Journalist!
All you have to do is SMS what you see, along with your name, to 57333. Add RED before you start your message.
Here's an example: RED stone throwing at Metro theatre, Avinash. And you can SMS that to 57333. Your cell phone number will be kept confidential. Each SMS will cost you Rs 3.
If you have shot any videos of the protests, do upload them on ishare and mail the link to us.
This is how you can upload on ishare:

You can also show your support to the release of My Name is Khan. Simply click here!
In the picture: Mumbai theatre Maratha Mandir gets police protection. Photograph: Arun Patil