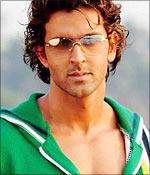 Hrithik Roshan is the latest to join the celeb bandwagon in support of Shah Rukh Khan, urging fans to watch My Name Is Khan.
The actor, who joined the micro-blogging site on Thursday, made sure that his first tweet expressed his solidarity with Khan.
"Spread humanity with a vengeance, GO WATCH MY NAME IS KHAN. ...and for the record, my name is HRITHIK ROSHAN (sic)," Roshan wrote.
The actor also plans to catch My Name is Khan himself on Friday after he is done with the Shivratri celebrations.
National award-winning actress Priyanka Chopra wrote, "I hope you all have plans to go out there and catch the film
over the weekend in support of a great effort by Shah Rukh, Karan, Kajol and the cast and crew. We have to stand up to for
what is right."
Filmmaker Mahesh Bhatt, who has been constantly tweeting about the issue in the past week, wrote, "The brand ambassador of Gujarat Shri Amitabh Bachchan must be asked to prevail upon Modi to step in urgently and get MNIK released in Guj! (sic)"
Actor Riteish Deshmukh wished good luck to Khan and director of the movie Karan Johar, writing, "good things happen to good people, actually great things will happen."
Any MNIK protests in Mumbai? Report it!
So you support the release on MNIK? Click here!
Read the reviews here: Savera R Someshwar | Sukanya Verma