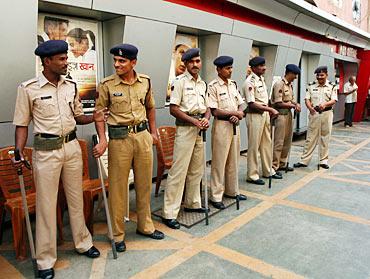 Shah Rukh Khan expressed regret over the My Name is Khan controversy and apologised to his fans for giving them stress over the last few days.
'If anything I have said wittingly or unwittingly to have disturbed any sentiments... I wholeheartedly regret... and I love you very very very very much, thank you,' the actor tweeted.
MNIK ran into controversy after Shah Rukh commented about Pakistani cricket players' inclusion in the third season of the Indian Premier League.
Shiv Sena took the matter up, as they felt SRK should not express empathy with Pakistani players. They demanded an apology from the actor, which he refused to do. So they decided to protest against his new film, MNIK, which released today. 
'I promise, I will only make wonderful films from now on forever,' SRK tweeted.
The actor also seemed elated by the film's response on the first day. 'Yipppeee!' he tweeted. 'I am humbled by this show of love & kindness. so dont know wot else to say. overwhelmed & promise will make india proud with my hard work.'
Are you looking forward to MNIK? Click here!
Read the reviews here: Savera R Someshwar | Sukanya Verma
In the picture: A Mumbai theatre gets police protection. Photograph: Arun Patil