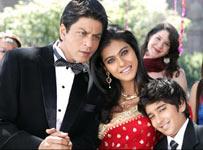 There was a time when air travel seemed like the next best thing after Disneyworld. Today, I don't know what it is about airports but they are just so creepy. 
Perhaps it's the intimidating nature of a security check which makes it one of the most daunting five minutes of a passenger's life. It's for your own safety, they argue. It feels offensive and discriminatory, you say.
But then like Khan says, time in the modern world is now demarcated as pre and post 9/11 where panic is just a button away and paranoia is second nature. Those who've been at the receiving end of these 'singling out' experiences nurse an understandable resentment. Those who haven't dismiss it as standard procedure whilst secretly thanking their stars.
All this while these thoughts play in mind as I watch Rizwan Khan (played by Shah Rukh Khan) frisked in a hostile fashion by a bunch of suspicious airport authorities at the San Francisco International Airport after a lady in the queue of South East Asian origins hears him chanting an Islamic prayer.
To top it all, he's on his way to Washington D.C. to meet the President of United States. Could he be more threatening?  Karan Johar's latest drama, My Name is Khan is a well-meant but flawed exercise in telling us he's not.
The film quite simply says A). There are only two kinds of people in the world -- good and bad. B) Not every Muslim is a terrorist.  C) Cell phone kills bees. Okay, the last one not so much.
Doesn't sound anything like a Karan Johar movie does it? Come to think of it, his last effort, Kabhi Alvida Naa Kehnaa, too, tried to break away from the comfort candy he's usually associated with. Weird, though.
A young filmmaker like him (he's only 37), who's only directed four movies shouldn't have any fixed image to live up to. And while I welcome his decision to make diverse cinema, I do not think My Name is Khan lives up to its entire potential. 
Considering the genre, it's not too much to expect MNIK to convey the sensitivity of Sparsh or the clarity of Taare Zameen Par. MNIK doesn't wear the simplicity of either. It's like comparing a flute to a violin.
Enormous in its goals and large scale in sentimentality, Shibani Bathija's ambitious script aims to pass the illusion of greatness by constructing Khan as some kind of an icon and epic, a Forrest Gump-inspired character. Like Tom Hanks, he takes the lesson of goodness to heart and shares a similar level of relationship with his mother (Zarina Wahab plays the optimistic mother with grace and gusto).
The basic purpose his Asperger's Syndrome state serves the story is to remind the extent of pragmatism and cynicism we have given into as opposed to his perceivably naïve 'good wins over evil under all circumstances' stance. When he employs this approach to hang out with the people in his new home in America or woo the plucky lady at the salon (Kajol), it's inspiring. But Bathija's theory of idealism is blown up with such excessive melodrama thereafter; it gets to the point of being stagy and implausible.
Having said that, MNIK is not a bad film by any stretch. In fact it's quite terrific, except only in fragments. And that is a big downer.
Let's start with the good stuff. The idea is to portray the romance between Khan and Mandira as larger-than-life as possible. Needless to say, SRK and Kajol's legendary chemistry is at play, sans the K Jo staple -- song and dance.
Though Rahul and Anjali have grown up, the sparkle of mischief and passion in their camaraderie hasn't lost any of its original lustre. Indeed, their magic reaches its peak in the sunrise-in-San Francisco (Johar cleverly incorporates SF tourism through their courtship, which involves a bet to discover unseen facets of the city) proposal scene. Her impulses, his shyness, it's a brilliant moment and ecstatic celebration of celluloid romance.
Though it's only after the unlikely duo -- she a single mom and Khan with his unconventional demeanor get married that important issues crop up. If intimacy is handled with humour (read SRK waving a copy of 'Intercourse for Dummies'), their Hindu-Muslim marriage accommodates both the religions and the way of life they propagate with modern-day tolerance and consideration. 
But then a post 9/11 tragedy changes Mandira's outlook about her choices, compelling Khan to make a trip across America to meet the President to tell him what he's been telling us in the film's promo, 'My Name is Khan. And I'm not a terrorist.'
Khan's photogenic journey (Easily one of Ravi K Chandran's most superlative works) has a clear-cut agenda but Johar is so intent on making him a messiah that the film enters preaching mode. Either he's rescuing a hurricane-afflicted village in Georgia or leaking the whereabouts of an undercover Jihadi outfit to the FBI.
When his selfless acts are brought to the notice of two intern reporters (an underutilized Arjun Mathur and Sugandha Garg) and an influential TV host (Parvin Dabas plays the charismatic media man with conviction), the twain kick start a Pro-Khan propaganda, which leads to reactions like 'My Name is Jitesh. And I am not a terrorist' and 'I am proud to be a computer hack.'  What follows is over-the-top, cheesy and at times even comical.
Also, the Hindi to English communication is handled with much awkwardness. Initially, dialogues in English are translated in Hindi as well. Later, a voice-over in Hindi does the needful. His interactions with an African-American community are the most affected of the lot.
Moreover the Bollywood tone of this sub-plot is particularly tacky thanks to its exaggerated show of humanity. That's always been one of Johar's steady shortcomings, his penchant for excess. The only time it does some good is when Kajol reaches a point of breakdown. The camera lingers on her shattered expression, bewilderment and raw rage as she goes through a nightmarish experience while her autistic other half tries to comfort her with detached concern. It's a complex frame to be in but Kajol makes it all credible. She's so genuine and hard-hitting; you secretly wish MNIK was told from her perspective. What an actress!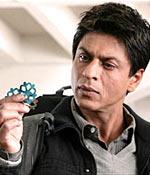 Most of the performances, be it Indian or American actors, in MNIK are of the earnest variety. Only there are so many of them that some like an exceptionally radiant Soniya Jehan, the characteristically intense Arif Zakaria, the usually affable Sumeet Raghavan and Vinay Pathak or a hyper Navneet Nishan (filling the Karan Johar's recurring Dumb Dolly stereotype following Archana Puran Singh, Lillete Dubey, Delnaaz Paul) are reduced to props or blink and miss cameos.
What primarily doesn't work for me here is the man behind Khan. SRK delivers an inconsistent, half-convincing performance, which is a tricky mix of laboured, strained and spontaneous. It's adventurous of him to sign on the part of a patient of Asperger's syndrome that's a radical departure from what he's done previously but the final product isn't awe-inspiring at all.
The nature of his character is such that he's expected to stay stiff, bemused as far as displaying emotions go whereas the dialogues do him little justice. More often than not, the lines he speaks, and there are too many of them, sound like a read out aloud session of quotable quotes from the Holy Quran, Einstein or his super sharp Ammi.
He fares superbly when he is only gesticulating. Like the scene where his indignant younger brother (Jimmy Shergill is restricted to a frown) smacks the table to convey his irritation, Khan too responds with a spontaneous bang. It's subtle but effective nevertheless. 
Such restrain, sadly, is demonstrated on sporadic occasions what with Johar so intent on spelling out everything that goes on in Khan's mind. The verbose nature of the script doesn't leave much scope for gestures. Although the image of Khan standing on a deserted highway with a sign board that reads 'Repair almost everything' is true to the soul of this film. Even if it's the only one of its kind.
Rediff Rating:

Do you want to watch My Name is Khan? Click here!
If you come across any violence or demonstrations against My Name is Khan, here's your chance to play Citizen Journalist. Report it!