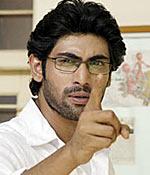 Be the change you want to see in the world, Mahatma Gandhi had said a long time ago.
Taking these words to heart, director Sekhar Kammula gives us Leader, whose protagonist Arjun Prasad's (Rana Daggubati) maxim is Avineeti nirmoolana (eradication of corruption). This 'principle' reverberates throughout the Telugu film.
The film is a relevant take on contemporary politics in the state of Andhra Pradesh -- a large slice of reality infused with fiction in the form of a love story and other elements.
But it's applicable to the nation too though Sekhar makes a case for a leader and distinguishes him from a politician on rather simplistic grounds.
He scripts a saga of the journey of a boy, Arjun Prasad from a political family who does his PhD in the US but has to return to India after his father, played by Suman (the chief minister of Andhra Pradesh), is injured in a bomb blast.
When Arjun's father dies, the patriarch of the family, Peddayana (Kota Srinivasa Rao) wants someone to take over his nephew's place so that the 'dynasty' can continue.
A 'struggle' for power then ensues. Peddayana nominates Dhananjay (Subbaraju) as the successor though Subbaraju doesn't have a good track record. On the insistence of his mother (Suhasini Mani Rathnam) and to keep his father's last wish, Arjun enters the race for CM.
But he soon realises that corruption is everywhere. To his horror he finds out that even is father was guilty of corruption. He begins to understand the machinations and manipulations in the race for money and power, and tries to clean the system of all this.
But in order to do so he uses the very system he's trying to change to win over the people. He carries on the task of 'reform' despite the precarious nature of his position where MLAs try to pull the rug from under his feet at every opportunity.
All this is nothing new. We all know about wily politicians, nepotism, corruption, bomb blasts etc. And while Sekhar has stressed on the corruption bit a little too much, he fails to attack the root of the problem. Plus, he offers no 'solution' per se.
Change is good but one has to be a catalyst to bring about that. One needs an extraordinary person (like Gandhi in the past) to rise to the occasion with a powerful 'ideology' or tool to take on corruption.
Agreed that Arjun has the inclination to reform the system but the way it is depicted in the film is rather simplistic. A leader is far above 'politics', 'power' and 'position' if analogies are drawn with Gandhi.
If anything, the film is a wish-list of what one would like to see in the arena of politics, which Sekhar should be lauded for even trying, though the message that he sends out makes the film rather preachy in parts and somewhat idealistic.
There are certain elements like the love story and the item song which seem to be pander to the masses, and at odds with the serious nature of the film. It looks rather odd for the CM to be waiting for his 'girlfriend' Archana (Richa Gangopadhyay) in a restaurant with the black cats behind him! Agreed the CM is young but it didn't have to be so blatant (even though the wooing started off as a scheme as she was another politician's daughter).
There is a quite a bit of Gandhi in the film too. The modelling of the protagonist itself to some extent seems to be on Gandhi's ideals -- honesty, integrity and a state free of casteism.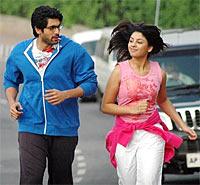 In fact one scene in the film resembles a scene from Richard Attenborough's Gandhi. In the scene Arjun (before he becomes a CM) sees a woman in tattered clothes crossing the stream and throws his towel to her. As we recall, Gandhi (Ben Kingsley) threw his clothes to a woman in a river.
Performance-wise, Sekhar scores. His choice pf Suhasini as Arjun's mother is good. She is the inspiration and motivation for Arjun to become CM and leader. Suhasini is a brilliant actress. She brings grace and dignity to her role.
Rana Daggubati suits the character of Arjun Prasad. He looks fresh and exudes confidence and seriousness. His body language too is right for the part. An impressive debut, indeed.
Richa looks pretty and charming. Harshavardhan (who plays Ali) and Priya Anand (Ratna Prabha) are competent in their roles. Kota, Subbaraju, Ahuti Prasad and Rao Ramesh are good as the other politicians.
Mickey J Meyer's music is good too. The background score is quite haunting in parts. AVM, the production house, ensures that the movie is technically good. Thota Tharani's sets are good while Vijay Kumar and Marthand Venkatesh take care of the camera and editing, respectively.
All in all, Leader may be a little far-fetched and utopian but it has been released in the state at a time of political uncertainty. When one is certainly bemoaning the lack of leaders it may perhaps prove to be a catalyst for change.
Rediff Rating: